CD REVIEW – PHOENIX
JANUSZ WAWROWSKI, violin
RÓZYCKI | TCHAIKOVSKY VIOLIN CONCERTOS
ROYAL PHILHARMONIC ORCHESTRA
GRZEGORZ NOWAK, conductor
Warner Classics 0190295191702 (60'02")
'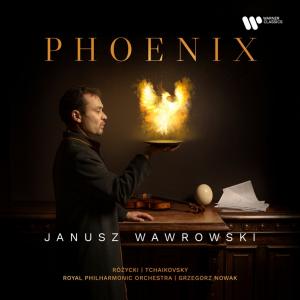 There is a truly remarkable story behind this album. Ludomir Rózycki (1883-1953) was writing his violin concerto during the 1944 Warsaw Uprising against the Nazis and, when that became so brutally suppressed, decided it too dangerous to stay and buried the unfinished manuscript in a suitcase in the garden of his deserted and ruined house.
Years later the buried suitcase was found by construction workers clearing the ruins. Using the recovered score fragments, which he found in the archives of Poland's National Library, enabled Wawrowski with pianist and composer Ryszard Bryla to recreate the composer's original intentions with the help of a surviving piano reduction.
Now known as the Phoenix Concerto, the work in two movements is a tad under 23 minutes in length and reminds the soloist of Gershwin or Korngold. It is akin to the latter's Violin Concerto and could be from a movie. Not great music compared to the following work, but very listenable.
Unsurprisingly, the Pyotr Ilyich Tchaikovsky (1840-93) concerto – written in Switzerland in 1878 – with its abundance of good tunes is one of the most popular violin concertos in the world. It was evidently written soon after the painful breakdown of the Russian composer's disastrous marriage. This performance is stunning, one of the very finest in the catalogue.
The Polish-born (1982) Wawrowski is also a lecturer at the Chopin University of Music in Warsaw and director of numerous violin festivals, and was awarded with the title of Meritorious for Polish Culture and National Heritage in 2015.
Playing a 1685 Stradivarius, he is splendidly accompanied throughout this excellently recorded album in London's Henry Wood Hall by the Royal Philharmonic Orchestra under another of his countrymen, its permanent associate conductor Grzegorz Nowak. I see that the recording engineer is the noted Mike Hatch.
This quality release is completed by a very interesting set of booklet notes – in English, Polish, French and German – albeit in rather small but clear print.
It is hard to imagine anybody buying this disc or download being disappointed.
© Peter Burt 2021