CD REVIEW – PALACE PREMIÈRES
The Countess of Wessex's String Orchestra - Major David B. Hammond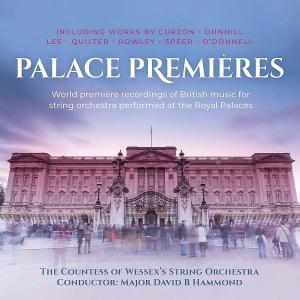 World première recordings of British music for string orchestra performed at the Royal Palaces.
Including works by Curzon, Dunhill, Lee, Quilter, Rowley, Speer, O'Donnell, Thorne, Scott, etc.
THE COUNTESS OF WESSEX'S STRING ORCHESTRA – CONDUCTOR MAJOR DAVID B. HAMMOND
The terms Military Music and Wind Band are usually synonymous. So it came as somewhat of a surprise to learn – from the comprehensive booklet notes accompanying this recent CD release – that there has been a long tradition of string playing in the British Army. In particular, the orchestra of the Royal Regiment of Artillery has been in existence for over 250 years and proudly lays claim to having been the first professional orchestra in Britain.
The Countess of Wessex's String Orchestra was established in 2014, as part of a number of changes which took place within the Corps of Army Music. It can, however, trace its heritage back to 'The Kings Musick' of strings, from the time of the Restoration in England, which eventually formed the basis of Queen Victoria's private band in the nineteenth century.
The CWSO performs a variety of music, ranging from classical to pop, in various settings both in the UK and abroad. Engagements are varied, and include investitures, ceremonies at royal households, state banquets and dinners, as well as providing support to army regiments and corps.
At the time of the recording, (March 2019), it comprised five first violins and four second violins, three violas, four cellos, two double-basses, and piano, although I understand that it has since been enlarged.
The Orchestra's Director of Music, Major David B. Hammond, was appointed to the position in 2016, and has an impressive list of qualifications and honours. Originally a solo French horn player with the National Youth Jazz Orchestra and the Cambridge University Musical Society, he spent four years as a musician and teacher in schools in Southern Africa. Upon joining the British army in 1995, and after completing his military training, he was initially assigned as a French horn player to the Band of the Hussars and Light Dragoons in Münster, Germany.
He was subsequently selected for the Bandmaster course at the Royal Military School of Music, Kneller Hall, where he passed out top of his class, winning the Worshipful Company of Musicians Silver Medal. There followed posts as Bandmaster with a number of Regimental bands, with several spells of duty overseas, including Cyprus and the Falklands, and operational tours to the Balkans and Afghanistan.
After many years of most distinguished military service, Major Hammond recently decided to pursue a new, civilian, career as a music and business consultant and this CD marks his 'swansong' from full-time Army music-making. I understand, however, that he continues his involvement as an army reservist and is Director of Music of The Band of the Royal Yeomanry.
He is also the author of a handsome new book – British Army Music in the Interwar Years, which was researched and written for his PhD thesis. A review of this is in preparation and will appear on our website in due course.
Major – now also Dr – Hammond told me that his aim was to include compositions which, although excellent examples of British string pieces, have never previously been recorded. The names of most of the composers featured will be relatively unfamiliar, as indeed will many of the actual works, but Light Music aficionados will certainly recognise Frederic Curzon and Roger Quilter, together with Harry Dexter and Fred Hartley in their roles as arrangers of a couple of traditional airs.
Bertram Walton O'Donnell – who hailed from a celebrated military musical family – is represented by his 'Fragment for Strings'. I have encountered this piece before as part of the composer's three-movement 'Miniature Suite', but it is probable that the latter was actually assembled from existing disparate works by the publishers, in order to be issued as a 12" 78rpm library record.
The standard of playing by the musicians, and indeed the music itself, is of the highest quality. As a salient example, the opening suite – In Rural England, by Thomas Dunhill – is especially beautiful. In addition to the thirteen premièred works, there is a bonus – the previously recorded 'Suite Of Seven Pieces' by Giles Farnaby, arranged by Granville Bantock – included in the collection, which contributes to a very generous playing time of almost 76 minutes.
The venue was the Guards Chapel, Wellington Barracks, London, and the superb digital recording is the work of renowned engineer Tony Faulkner.
For those – like myself – who particularly enjoy wonderful string ensemble music, this splendid CD is an absolute 'must'.
© 2020 Tony Clayden
The CD may be obtained from Mike Purton Recordings as follows:- http://www.mikepurtonrecording.com/shop/cws001-palace-premieres
tel: 07767 887 793
email: mike@purton.ndo.co.uk