CD REVIEW – OFFENBACH : ORCHESTRAL WORKS
Overtures including Orpheus in the Underworld - La Belle Hélène - La Fille du tambour-major - La Grande-Duchesse de Gerolstein etc. - Intermezzo and Barcarolle (The Tales of Hoffman) - Overture and Ballet from Le Voyage dans La Lune
Orchestre de la Suisse Romande / Neeme Järví
Chandos CHSA 5160 77' 45"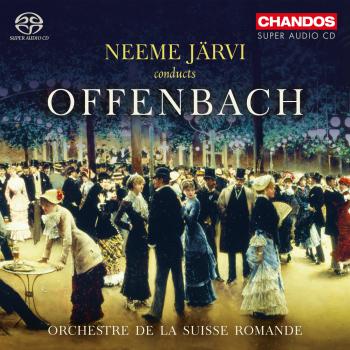 Another excellent release at the lighter end of the classical spectrum from this label.. Jacques Offenbach has been variously described as irrepressible, exhilarating, exuberant, and sparkling with fellow composer Rossini calling him "The Mozart of the Champs-Elysées."
His tuneful, witty music captivated his Parisian public [he was born in Germany] during the 19th century and remains very popular throughout the world today. This album has 77 3/4 minutes of mainly operetta overtures – of which he wrote 90 – beginning with the familiar Orpheus in the Underworld and ends with La Vie parisienne. Also included are the Intermède and Barcarolle from 'The Tales of Hoffman', his unfinished foray into grand opera. Interestingly one of his librettists, Henri Meilhac, also wrote the libretto for Bizet's 'Carmen'.
The orchestra is in fine form under its veteran conductor who, as well as being honoured with many international prizes and accolades, has been named as one of the 'Estonians of the Century.' With superior sound as always from this Colchester-based company, unreservedly recommended.
Peter Burt
October 2015
___________________________
Despite now being in his eighties, Neeme Jarvi displays no signs of flagging energy and will surely go down alongside Sir Nevile Marriner as one of the world's most recorded conductors in musical history.
With this latest release he features the effervescent and sparkling music of Jacques Offenbach and if anything can be calculated to raise the spirits, during the gloom of an English winter, surely this disc will do the trick. All the familiar favourites are here including overtures to "Orpheus in the Underworld" with its famous Can-Can, "La Belle Hélène" and the celebrated Barcarolle from "The Tales of Hoffman" plus the charming ballet music from "Le Voyage dans La Lune" set in the snows of an icy landscape. The Polka may be familiar since Manuel Rosenthal used it amongst the themes from various sources of Offenbach's music in his 1938 ballet 'Gâité Parisienne'
This is another CD in super audio mode from Chandos, brilliantly recorded with generous playing time and interesting scholarly notes from Andrew Lamb. Life enhancing music and one surely not to be missed!
Roger Hyslop
December 2015
___________________________
Tony Clayden comments...
Brian Couzens, who was the founder of Chandos Records, sadly passed away in April, aged 82.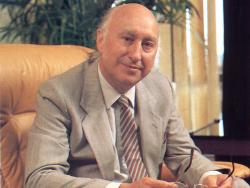 Formerly a jobbing musician, he became a BBC studio engineer, and also the composer of a number of light-music and publishers' library pieces. He did arrangements for both the BBC and EMI records, where he met Ron Goodwin, and he collaborated with Goodwin on the scores for around thirty films.
Having established Chandos originally as a Music Publishing house, Couzens developed the company into a significant entity within the British recording industry, and it remains one of the most respected independent labels, under the stewardship of his son Ralph.
In addition to its considerable catalogue of classical repertoire, Chandos has also championed film music, rescuing 'lost' movie scores and issuing many CDs in that genre.
An early and enthusiastic pioneer in the field of digital recording, Brian Couzens became justly famous for the distinctive 'sound' which he was able to consistently achieve on Chandos recordings.
Tony Clayden –
© October 2015