CD REVIEW: A NIGHT AT THE MOVIES
Classic fM CFMD48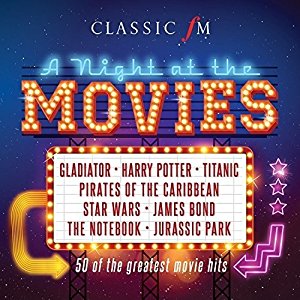 If you are looking for good tunes, they are here a-plenty, in what must be one of the best bargains of the year – a box-set of 50 tracks on three good length albums costing £3.33 each. Available at HMV and also widely online, this would be an ideal gift to give or to keep.
The standout tracks are inevitably by the great John Williams: 'Star Wars: The Force Awakens', 'Raiders of the Lost Ark', 'Saving Private Ryan' – The Hymn to the Fallen, 'Harry Potter and the Philosopher's Stone' – Harry's Wondrous World, and the Main Themes from 'Schindler's List', and 'Jurassic Park'. Also here is my current favourite, Hans Zimmer's 'Pirates of the Caribbean: The Curse of the Black Pearl' – He's a pirate, although I've never seen the movie! Another lovely piece is by Alexandre Desplat for 'The King's Speech'. And then there's 'Lord of the Rings' with flautist Sir James Galway, James Horner's 'Titanic' – My heart will go on and 'Braveheart' – For the love of a princess, 'Ladies in Lavender' by Nigel Hess, 'The Godfather' – Main Theme played by the ever popular André Rieu, 'James Bond: Spectre' – Writings on the Wall, Ennio Morricone's gentle 'Gabriel's Oboe' from 'The Mission', 'Dances With Wolves', Michael Nyman's 'The Piano' – The heart asks pleasure first, Cavatina from 'The Deer Hunter', the dramatic 'Lawrence of Arabia' – Overture, 'The Great Escape', 'Captain Corelli's Mandolin' – Pelagia's Song, 'Gone with the Wind' – Tara's Theme, 'The Theory of Everything', 'Chariots of Fire', and Hans Zimmer's 'Gladiator' – Earth and 'Superman: Man of Steel'. Mozart is represented by 'Amadeus' and 'The Shawshank Redemption'.
Other classical composers featured are Barber, Delibes, Pärt, Puccini, and Saint-Saëns. 'Beauty and the Beast' – Main Theme by Alan Menken and 'The Notebook' – On the Lake by Aaron Zigman are brand new exclusive recordings. Among the rest there are more well-known pieces and, possibly, a few "discoveries".
Peter Burt
© 2017