CD REVIEW – NEW YEAR'S CONCERT 2020
Wiener Philharmoniker - Andris Nelsons
Sony 2CDs 19439702362 ; Sony DVD Video 19439702379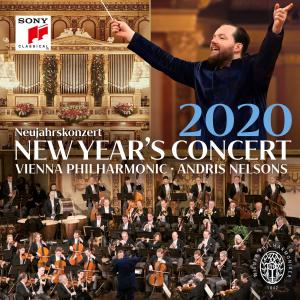 If I had a bucket list, top of it would to have been in the Vienna audience for the 81st New Year's Day concert by the Vienna Philharmonic Orchestra. The nearest I have actually got was some years ago on the pavement outside the Musikverein, home of the famous Golden Hall. As it is, I never fail to join the 50 million or so television viewers around the world, with the concert being broadcast in over 90 countries. With this release we have a permanent record of the occasion.
The first performance of the concert was given on New Year's Eve in 1939 and continued on Christmas Day during World War 2 (not without criticism afterwards) and every year since. Today the VPO is considered to be one of the world's finest, although still attracting criticism for its apparent reluctance to employ female musicians. There were only seven this time.
Each year the self-governing orchestra chooses the conductor for the concert and the latest was Grammy Award-winning Andris Nelsons who, at aged 41, is music director of both the Boston Symphony Orchestra in the USA and Gewandhauskapellmeister of the Gewandhauserorchester Leipzig in Germany, having made his name with our own Birmingham Symphony Orchestra.
This year's programme opens with Carl Ziehrer's Die Landstreicher Overture and continues with six works by Johann Strauss (Jr.) including On the beautiful blue Danube and Tritsch-Tratsch Polka, four by brother Josef, two by brother Eduard, and traditionally closes with the Radetzky March by father Johann (Sr.); the conductor keeping the rhythmic audience clapping that always accompanies this piece commendably under control. Other pieces are Josef Hellmesberger's Gavotte, Franz von Suppé's Light Cavalry Overture, Hans Christian Lumbye's (the Strauss of the North) Postillion Galop, and – Vienna-born 250 years ago – seven of Ludwig van Beethoven's Contredances.
The concert has two firsts in that the Latvian maestro, who I loved watching and was obviously relishing the occasion, wears a made-for-the-event purple velvet smock-like garment instead of the same 'uniform' jacket as the orchestra males, and literally blows his own trumpet while conducting.
Thoroughly enjoyable as a tune fest, and in the case of the DVD a visual delight, this release is guaranteed instant sales, which cannot be said of many albums these days.
© Peter Burt 2020