CD REVIEW – SARAH WILLIS : MOZART Y MAMBO
Alpha ALPHA578 (54:43)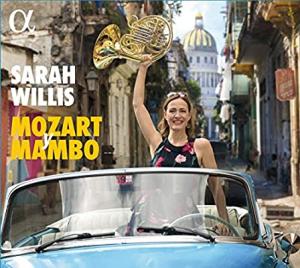 Here is a fun album combining works for French horn by top classical tunesmith W A Mozart with traditional Cuban music. It is the brainchild of British-French-US born, Sarah Willis, who is a member of the Berlin Philharmonic Orchestra horn section, and a presenter of TV and online classical music programmes.
Sarah fell in love with the Cuban people and their music when she was asked on her first visit to give a French horn masterclass. Remarkably, there is a statue of Mozart in Old Havana and Sarah was told "Mozart would have been a good Cuban". The comment intrigued her and inspired this CD.
The centrepiece of the album is a top-notch performance of Mozart's Horn Concerto No.3, K.447*. This is joined by his Concerto Movement an 8or Horn in E-Flat Major, K.370b and Rondo in E-flat Major, K.371 for Horn and Orchestra.
The home-grown pieces are Sarahnade Mambo based on Wolfgang Amadeus's Eine Kleine Nachtmusik, featuring the six-piece Sarahbanda founded by the hornist; Perez Prado's Qué Rico el Mambo with Sarah and the 14 strong Havana Horns Ensemble, which she also created; Rondo alla Mambo, inspired by the third movement of the above concerto; and two best-loved Cuban Songs (no vocals): Dos Gardenias and an 8½-minute El Manisero (The Peanut-Seller).
Sarah is very well accompanied by the four-year-old Havana Lyceum Orchestra, under its founding music director and "exuberant" conductor José Antonio Méndez Padrón (Pepe). A number of famous local musicians also take part in the recording, only made in January this year at Havana's Oratorio San Felipe Neri. It is disappointing that such an inventive project with so much talent should not have used more of the remaining 26 minutes available on the disc.
The digipak booklet, including commentary on each track by Sarah herself and nine pages of excellent colour photos, is a model of its kind.
As someone who delights in the sound of the French horn and for whom the Austrian master is a favourite composer – also having a liking for music from this part of the world – I found this a joyous release and wholeheartedly commend it. An added incentive to purchase is that part of the proceeds from the disc will go to towards buying instruments for the musicians of the Orquesta del Lyceum de La Habana.
(* The 'K' in Mozart's works is a chronological catalogue of his compositions, originally created by Ludwig von Kochel).
© Peter Burt 2020
Tony Clayden adds:-
I heard a couple of tracks from this CD played a week or two ago on Classic FM – it's Mozart like you've never heard him before ! If he's listening up there, I'm sure that he whole-heartedly approves and it's definitely on my 'wish list'.