CD REVIEW – MILOŠ: BLACKBIRD – The Beatles Album
Mercury Classics 482310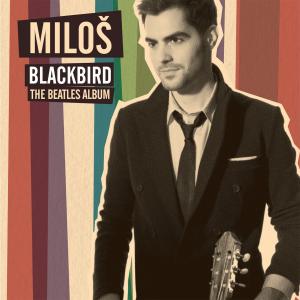 For his fourth album Miloš Karadaglic, the 32-year-old award-winning classical guitarist from Montenegro, gives us his distinctive "take" on 15 songs written by the Beatles [John Lennon & Paul McCartney and George Harrison] – music that seems to appeal to all ages – and a very good album it is, too.
It was recorded in the famous Studio 2 at Abbey Road, London with some of the microphones used by the original Fab Four. There are just two vocals: Let It Be, for me a standout track from the behatted jazz/soul/gospel singer Gregory Porter and a moving She's Leaving Home by Tori Amos, the eight times US Grammy nominated singer-songwriter. Our own world-renowned cellist Steven Isserlis is featured on Michelle and the sitar player Anoushka Shankar on Lucy in the Sky with Diamonds. Several tracks also have some string accompaniment including The Fool on the Hill, And I Love Her, Eleanor Rigby, Something and Here Comes the Sun. That big favourite Yesterday is in the Japanese composer Toru Takemitsu's classic solo guitar arrangement.
At just under 45 minutes this release might be short on quantity [the Beatles did write over 200 songs!] but for quality of performance and recording it can barely be faulted.
Peter Burt © January 2016