CD REVIEW – MENDELSSOHN: PIANO CONCERTOS
Orpheus Chamber Orchestra
Jan Lisiecki, soloist
DG 4836471 (63 mins)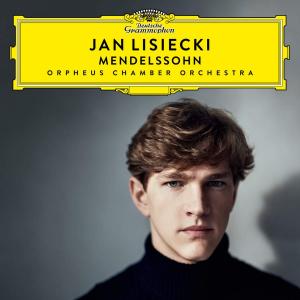 Felix Mendelssohn (1809-47), a prolific German composer, is probably best known for his Overture and incidental music for 'A Midsummer's Night Dream' (particularly 'Wedding March'), Italian and Scottish Symphonies, the oratorio Elijah, the overture The Hebrides ('Fingal's Cave'), a great Violin Concerto, and "Hark the Herald Angels Sing". (He also wrote 12 string symphonies between the ages of 12 and 14!).
While possibly not regarding the instrument in quite the same light as others he wrote for, so less well-known are these two numbered Piano Concertos written when he was in his early twenties. They prove to be rewarding listening; the last movement of the Second is especially exhilarating.
In addition on this disc are solo works: Variations sérieuses, Rondo capriccioso, and Songs without Words, Book 1(6). Everything is excellently played with an immaculate technique by another notable young man, Jan Lisiecki, a Canadian pianist of Polish descent, who at the age of 24 has already received several prestigious awards. I have previously enjoyed his Schumann album (DG 4795327). The New York Times has described him as a pianist who makes every note count.
The virtuoso himself – who is also quite involved in charity work – has said: "Going into a concert hall should be like going into a sanctuary. You're there to have a moment of reflection, hopefully leaving feeling different, refreshed and inspired." Words to think on and, although not live, a Warsaw studio recording of the composer's piano music that it would be hard to better.
© Peter Burt 2019