CD REVIEW – MATT MONRO
Stranger In Paradise - The Lost New York Sessions
UMC 5387616 (50:08 & 79:45)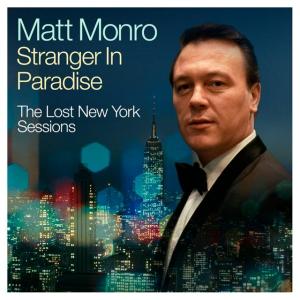 In 1959, legendary record producer George Martin paid a struggling singer from Shoreditch, Matt Monro – born Terence Parsons 1930, died 1985 – £25 to demonstrate a Sinatra-ish song called You Keep Me Swinging for a proposed Peter Sellers album 'Songs for Swinging Sellers'. But Sellers could not match the Monro take-off and Matt himself was to wind-up on the record disguised as Fred Flange.
Six years later, when the former driver of the No.27 London bus had become Britain's No.1 male vocalist, the giant American record label Capitol offered him an eye-watering million-pound contract to replace Nat King Cole, who had sadly died in the February.
The first album on this release, STRANGER IN PARADISE, is something very special. It has 16 songs and four retakes of Broadway songs recorded by Matt at the beginning of his States stay accompanied by just a pianist, bassist, drummer and two guitarists, who both play a mixture of electric and acoustic instruments. For reasons fully explained in the booklet's copious notes these recordings never got released in this form and have remained in the Capitol vaults until now.
As well as well-known songs such as the title tune, The Impossible Dream, Put On A Happy Face, Hello Dolly!, The Sweetest Sounds, Sunrise, Sunset, and Maria, there are more less-known titles. My favourite is The Lady Smiles with the accompanying electric guitar sound echoing that of co-writer Bert Kaempfert in his own orchestral arrangements.
With the second album, THE BEST OF, you get what it says on the tin. It does, of course, include five UK top ten entries: Portrait Of My Love (No.3); Walk Away (4); My Kind Of Girl (5); Yesterday (8), which was produced, arranged and conducted by Matt's long-time producer, one George Martin; and Softly As I Leave You (10). The majority of the 19 home grown tracks were arranged and conducted by Johnnie Spence with others by John Barry (Born Free and Wednesday's Child), Kenny Clayton, Mike Vickers, Zack Lawrence, and Colin Keys. The three final tracks: We're Gonna Change The World, And You Smiled, and If I Never Sing Another Song were produced by John Burgess. The eight American tracks are all produced by Dave Cavanaugh and arranged/conducted by Sid Feller (of Ray Charles fame) except for Billy May on Spanish Eyes. Three songs have been re-mixed.
Interestingly, when Matt's daughter Michele writes that "he was constantly victorious in popularity polls but his biggest highs came from working with such illustrious names ….", she includes Robert Farnon.
This is an excellent release in memory of the man nicknamed "The Cockney Sinatra" that anyone who remotely appreciates the best in popular singing should have on their shelves. It comes at a budget price and must surely be in the running for bargain CD of the year.
© Peter Burt 2020