CD REVIEW – MADEMOISELLE IN NEW YORK
Lucienne Renaudin Vary (trumpet)
BBC Concert Orchestra, Bill Elliott
Warner Classics 9029540710 (59')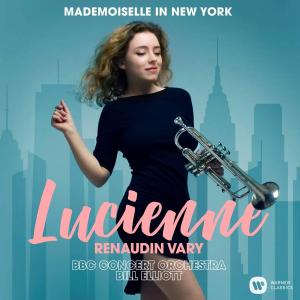 Here's a discovery – thank you Classic FM – a 21-year-old French trumpeter, who is also a siffleuse, and a singer of sorts. In 2014 she was the first student at the Conservatoire National Supérieur de Paris to have ever been accepted on both the classical and jazz courses at the same time. Three years later she made her first album* and this is her second, featuring a varied programme that is very much our kind of music.
There are 15 tracks including two medleys: ten minutes of Gershwin numbers and a 12 minute selection from 'West Side Story', pieces by Charles Aznavour, Louis Thomas Hardin (aka Moondog), Sidney Bechet, Kurt Weill, Ravel (Pavane pour une infant défunte) and Dvorak (Gypsy Songs: Songs My Mother Taught Me). I especially enjoyed Milhaud's Le Boeuf sur le toit (you will recognise the tune), and Shall We Gather at the River by the gospel hymn writer, Robert Lowry. On the final track, Bobby Hebb's Sunny, Lucienne is joined by her brothers, double bassist Philémon and guitarist Bartholomé.
Mlle Vary's playing is remarkably refreshing, and she is very well supported by the ever-versatile BBC Concert Orchestra conducted by the award-winning Bill Elliott, who has written over 50 arrangements for the Boston Pops Orchestra and whose arrangements here greatly enhance the album's appeal.
We could do with more releases like this.
*The Voice Of The Trumpet (Warner Classics 9029588832)
© Peter Burt 2020