CD REVIEW – LITTLE WOMEN
Original Motion Picture Soundtrack
Music by Alexander Desplat
Sony 19439702752 (63:38)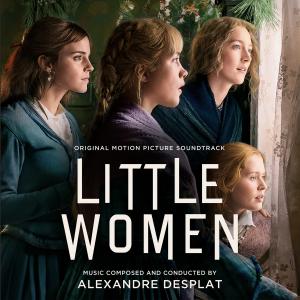 It may be that I am one of the few men who have willingly accompanied their woman to see the well-received film of 'Little Women'. Several times during the showing, while not being gripped by the onscreen action (or inaction), I was particularly struck by the music and not surprised to see from the credits that the composer was Alexander Desplat.
His scores have impressed me before, for films such as 'Julie and Julia', 'The King's Speech', 'Philomena', 'The Imitation Game', and 'Florence Foster Jenkins'; and among his contemporaries I only rate John Williams more highly.
The Frenchman, described by 'Little Women' director, Greta Gerwig, as "one of the geniuses of cinema", has won two Academy Awards, for 'The Grand Budapest Hotel' and 'The Shape of Water', received nine more nominations for the same award, eight César nominations (winning three), ten BAFTA nominations (winning three), 11 Golden Globe Award nominations (winning two), and six Grammy nominations (winning two).
With this score he has already been nominated for this year's Best Original Score Oscar. As well as composing he conducts a chamber orchestra comprising 27 violins, nine violas, seven cellos, five basses, two pianos, a flute, clarinet and harp. All the musicians get named in the accompanying booklet, which also contains stills from the film, a nice action photograph of M Desplat as conductor (he was also music producer), and interesting articles by him and the director.
Orchestral soundtrack releases do not always stand-up separated from the screenplay but you will find this quite well-filled album of 26 tracks a good listen, whether or not you have seen the film.
© Peter Burt 2020