CD REVIEW – LEÓ WEINER
Estonian National Symphony Orchestra conducted by Neeme Jarvi
Chandos CHAN 10959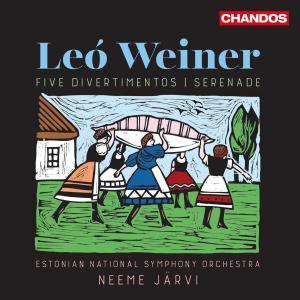 Serenade and Divertimentos 1, 2, 3, 4 and 5. A revelation and great fun! Don't be put off by the titles because this is terrific music which, if one didn't know beforehand, might attribute to an English composer such as John Foulds. In fact the music is Hungarian and all six pieces are broken down into several movements, each an individual delight based on old national folk dances. Imagine a cross between Dvorak, Smetana, Holst and Vaughan Williams and you might get close to this delightful CD of an early 20th Century composer who deserves to be resurrected. You can start here!
Edmund Whitehouse © 2018