CD REVIEW – KORNGOLD
VIOLIN CONCERTO & STRING SEXTET
Andrew Haveron, Sinfonia of London Chamber
Ensemble, RTÉ Concert Orchestra, cond. John Wilson
Chandos CHAN20135 (56')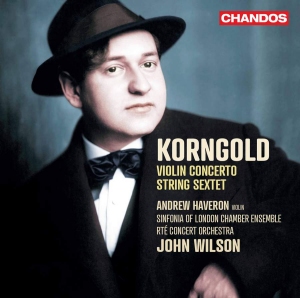 I referred to this concerto in my previous Korngold review (CHSA5220) last year. It was written 30 years after the young composer had been lavishly praised by Richard Strauss, and who then forsook classical music to become the toast of Hollywood.
The work received a sensational response at its premiere, not only for the playing of the great violinist Jascha Heifetz but for the orchestral sound. It was one of the first 'crossover' pieces with quotations from Korngold's film scores including 'Anthony Adverse', 'The Price and the Pauper' and 'The Sea Hawk'.
Andrew Haveron's performance on the violin is admirable throughout the album, with a honied but sinewy quality, and a real understanding with John Wilson, whose reputation nowadays is second to none. The Irish orchestra also play very well.
Chamber music does not immediately appeal to me but other reviewers have been enthusiastic about the Sextet, which is excellently performed and quite tuneful, so I too may grow to love it. (I've certainly got the time for an extended listen in my present self-isolating state). At 31˝ minutes it takes up over half the album's playing time: rather short measure for a premium-priced disc.
© Peter Burt 2020