CD REVIEW – KARL JENKINS – STILL WITH THE MUSIC
Warner Classics 2564610035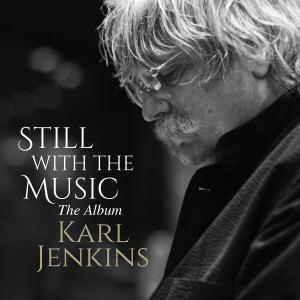 Karl Jenkins was born 71 years ago in Penclawdd, a small village on the Gower Peninsula, South Wales. Today he is the most performed living composer in the world. And last month he became the first Welsh-born composer ever to receive a knighthood. Possibly his best-known work 'The Armed Man:A Mass For Peace', dedicated to victims of the Kosovo crisis, has been performed over 1500 times in 20 different countries since it was premiered on CD in 2001, while his recorded ouput has resulted in 17 gold and platinum disc awards. Earlier in his career he had also won several awards in the field of media advertising.
On this 73-minute 16-track compilation are the best of his best ranging from Adiemus [from 'Adiemus: Songs of Sanctuary'] to a world premiere recording of Epilogue: The Canticle of Simon from his new work 'The Healer' by way of pieces from such as 'Requiem', 'The Armed Man' [including the beautiful 7-minute Benedictus], 'Stabat Mater', 'Stella Natalis', 'Gloria', and 'The Peacemakers', which features texts from Gandhi, Martin Luther King, the Dalai Lama, Nelson Mandela, Anne Frank and Mother Teresa as well as words from the Bible and the Quran.
Among all the singing is the attractive Allegretto from 'Palladio' for string orchestra. Featured soloists include Alison Balsom [trumpet], Catrin Finch [harp], Chloé Hanslip [violin], Bryn Terfel [bass-baritone], and Kate Royal and Hayley Westenra [sopranos].
Sir Karl is credited throughout as composer, orchestrator, producer and conductor. If his music is unfamiliar to you, then please don't delay in getting a copy of this bargain-priced release – you will be in for a treat.
Peter Burt
October 2015