CD REVIEW – JOHN WILLIAMS IN VIENNA
Wiener Philharmoniker - Anne-Sophie Mutter
DG 4836373 (75'00)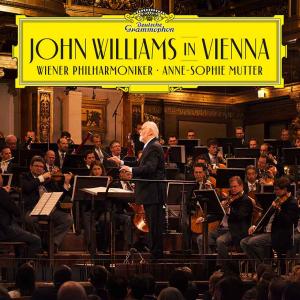 On Saturday 8th July 1972 I joined a packed audience in Nottingham's Albert Hall for the opening concert of that year's Festival given by the London Symphony Orchestra conducted by André Previn. The third item on the programme was Symphony No.1 by a 'John T Williams (born 1932)'. The review in the local newspaper said that "when two gentlemen made a conspicuous exit from the hall after the first movement, one began to fear the worst." But at the end, all was well and, after being introduced by André, "John Williams himself stood up from the stalls to take several bows."
How many of us applauding that evening could have imagined that this was the man who 48 years on would be recognised as the greatest composer of film music in the world, and possibly of all time? 'Mr Preview' and his band were, of course, subsequently to be closely linked with JW (he dropped the T) through their soundtrack recordings.
On this album a great European orchestra, the Vienna Philharmonic, play live 13 of Williams film works under his baton – what he considered "the greatest honour of my life" and the first time he had conducted in continental Europe – so this is a record of quite an historic event.
Unaccustomed as the VPO are to this kind of music, they take to it like that idiom about ducks. The string sound is sumptuous and my beloved horns are splendid, albeit more Austrian than French. In a Times newspaper interview the maestro speaks of his concern that the more old-fashioned rotary valve trumpets (still favoured by German and Austrian orchestras) would not be able to cope with so much upper-register work, "but their pitching and power blew me away".
There are excerpts from scores for 'Hook', 'Close Encounters of the Third Kind', 'E T The Extra-Terrestrial', 'Jurassic Park', 'War Horse', 'Jaws', 'Indiana Jones and the Raiders of the Lost Ark', and 'Star Wars': 'A New Hope', 'The Last Jedi', 'The Return of the Jedi' and 'The Empire Strikes Back'.
Five-star violinist Anne-Sophie Mutter (a former Mrs Previn) is featured as the glorious soloist in Devil's Dance from 'The Witches of Eastwick' – one of the disc's highlights – and, as Otto Biba's informative booklet note quotes from Die Presse newspaper, "semi-improvised with the first violins on the final track, the Raiders March".
The album was recorded before an ecstatic audience in Vienna's world-famous Great Hall of the Musikverein (venue of the New Year's Day concert) on 19th January 2020, and I think it will become something of a collectors' item.
[In addition to the above CD, there is a CD+Blu-ray Edition on DG 4839045, and a Vinyl Edition on DG4839042].
© Peter Burt 2020