CD REVIEW – NEEME JÄRVI CONDUCTS IBERT
Orchestre de la Suisse Romande Chandos CHSA 5168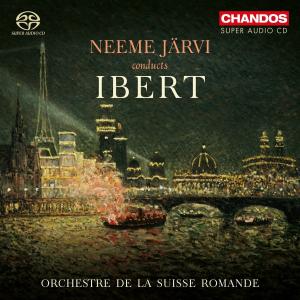 This is I, Burt - reviewing Ibert [sorry about that!] Jacques Ibert, known to English admirers as 'Jackie Bear', was a French composer [1892-1962] who studied at the Paris Conservatoire and in 1919 won its top prize,the coveted Prix de Rome, subsequently shocking those who awarded it with the non-academic levity of the pieces he wrote. Before this, as a naval officer during the Great War, he had won both the Croix de Guerre and the Legion d'Honneur.
His best-known work and the longest here is the exuberant Divertissement from 1930* with its snatches of Mendelssohn's Wedding March, café songs and Viennese waltzes leading to a breathless galop complete with police whistles.
The other seven works include Escales [Ports of Call], a 1922 musical journey round the Mediterranean, Scènes Parisienne [1930], Homage á Mozart and Bacchanale [1956].
For quirky melody and orchestration – which I guess the orchestra under their 79-year-young Estonian conductor had a great time recording – this is an album hard to resist. At 82'15" it is also the longest CD that has come my way to date.
All told, then, another "winner" from the Essex-based label.
Peter Burt - © April 2016
*This music was written to accompany The Italian Straw Hat, originally a satirical French play dating from 1851, which was made into a silent film around 1929 – Ed.
---
Escales (Ports of Call - Rome, Palermo, Tunis, Valencia); Sarabande pour Dulcinee (Love Poem); Overture du Fete (Summer); Feerique (Fairy Tale); Divertissement; Homage to Mozart; Paris (Symphonic Suite); Bacchanale.
Ibert's music is charismatic and highly enjoyable, partly because of the many liberties which he takes, even using a referee's whistle to emphasise chaos. Ports of Call is delightful while Divertissement, Summer Overture and Bacchanale are a riot of colour and sound. Paris has several movements depicting the great city while Sarabande, Fairy Tale and Homage to Mozart are more reserved.
This is a terrific CD and highly recommended.
Edmund Whitehouse - © May 2017