CD REVIEW – RAYMOND LEFEVRE AND HIS ORCHESTRA
Holiday Symphonies and Tomorrow's…Symphonies du Futur
Vocalion CDLK 4592 (77:15)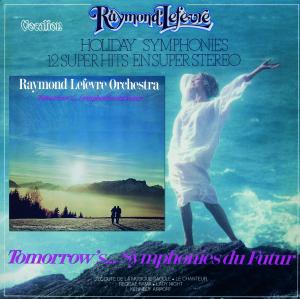 Raymond Lefèvre (1929-2008) was one of the triumvirate of French easy listening orchestra leaders/arrangers/composers – the others being Paul Mauriat and Franck Pourcel – who sold millions of albums around the world in the 1960s and '70s.
His was a name I knew but, unlike those of his two compatriots, his many albums seem to have to passed me by. It is fascinating to read in Oliver Lomax's exemplary liner notes that Lefèvre started out (aged 17) as a classically-trained pianist and took part in some of the famous Hot Club de France-era swing sessions. He was a member of the Pourcel orchestra in the early '50s, before having a residency as bar pianist at the Hilton Hotel in Los Angeles. He began recording with his own orchestra on the Barclay label in 1956 and in the '60s was a regular on French TV. He also conducted at the European Song Contest; three times for Monaco and once for Luxembourg.
Although Lefèvre always puts the accent on the strings, most of the tracks on this 2-on-1 release are in tune with the times and orientate towards disco with a liberal use of synthesizers. The first album from 1979 is described as '12 Super Hits En Super Stereo'. I have to admit that the only three tunes I recognise are John Williams' Superman film theme, My Life by Billy Joel, and Y.M.C.A.
Other titles include J'écoute de la Musique Saoûle, Le Chanteur, Reggae Rama, Lady Night, and Kennedy Airport. The second album comes from a year later when, sadly, the golden days of 'our kind of music' had passed in Europe, but Lefèvre remained extremely popular in Japan. It opens with his own impressive Hokkaido Symphony inspired by that country's scenic splendour. He also wrote the catchy, classically-influenced Ballad in Rhythm, one of my favourite tracks. Other titles here include Prélude ã L'an Deux, written by his son Jean-Michel, The Girl from Athena, Rockytrain, and an Herb Alpert hit, Rise.
It's good to have a well-filled, imaginatively arranged, and expertly remastered Lèfevre CD at a sensible price.
Peter Burt © 2017