CD REVIEW – HAYDN WOOD - ORCHESTRAL WORKS
Festival March – Snapshots of London: Suite – Cities of Romance –
Egypta-An Egyptian Suite – Three Famous Cinema Stars –
Royal Castles Suite – Manx Countryside Sketches
BBC CONCERT ORCHESTRA / GAVIN SUTHERLAND
Produced in association with BBC Radio 3 and the BBC
Concert Orchestra
Dutton Epoch CDLX 7357 77:02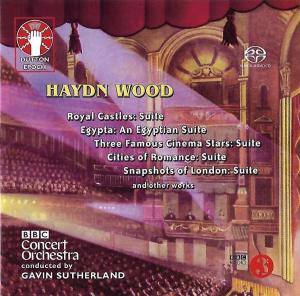 The advent of this CD is due to the joint initiative of light music enthusiast Tony Clayden, and the great-niece of Haydn Wood, Marjorie Cullerne; they have also penned the very informative biographical and descriptive notes for the booklet.
Haydn Wood's reputation is based almost entirely these days on songs like Roses of Picardy, Brown Bird Singing and a handful of orchestral suites, with probably the most familiar tune being Horseguards, Whitehall, (the final movement from the London Landmarks Suite ). This was used for many years as the signature tune for BBC Radio's Down Your Way programme. So, with some 180 songs and 80 orchestral works to his name, there is much for even the most dedicated of listeners to explore.
The new album goes some way to broaden our knowledge of Wood with nearly all premiere recordings. Most of the fare is composed of suites or groups of pieces, but the selection opens with a strong Festival March commissioned for the first BBC Light Music Festival in 1949. It is cast in traditional form with the slow section theme coming back at the end in triumphant mood.
(Am I alone in hearing a pre-echo of John Addison's Reach for the Sky theme in the arresting horn figure at the start ?)
Snapshots of London was the last of his three suites illustrating locations in the capital, and whilst not always quite possessing the immediate melodic appeal of its predecessors, has pleasing nudges to the knowing listener in terms of little figures from the earlier pieces cheekily dropped into the texture here and there. The first movement – Sadler's Wells – may be familiar to viewers of the early post-WW2 BBC Television Service, as it was used as the second theme for the famous 'Potter's Wheel' interlude.
The Cities of Romance and Egypta suites aim to introduce some 'ethnic' touches, with varying success. Budapest from the former shows Wood's sympathetic feel for the solo violin, of which he was such a master from an early age, whilst the 'cachucha' of the third movement [Seville] is very definitely in the Spanish idiom. Evocations of Egypt, however, are less convincing, apart from the odd touch here and there, and could probably be just as appropriate as descriptions of places in England.
Three Famous Cinema Stars dates from 1929 when all three 'stars' were at their height. (This was, of course, the final era of silent movies, not long before the arrival of the 'talkie'). The waltz for Ivor Novello alludes in its title, Valse Apache to a scene in one of his films that Wood obviously saw. The Chaplin Humeresque is probably the most effective movement, with piquant writing that could easily accompany any one of his film scenes.
The 'newest' music on the programme is the Royal Castles Suite of 1952, recalling locations in the three realms. Surprisingly, there is nothing particularly Scottish about Balmoral, which seems like a chance missed. The most immediately appealing tracks are two Manx pieces, with delicate touches of harmony and instrumentation in the first, and simple delight in the second. Haydn Wood spent several of his formative years as a resident of the Isle of Man and his affection for that locale is very evident in this music.
In common with Wood's better-known compositions, the pieces are all expertly crafted and his deft orchestrations are most competently realised by the members of the BBC Concert Orchestra, under the direction of Gavin Sutherland.
The quality of the recording, made at Watford Coliseum in 2017, is well up to Mike Dutton's usual superlative standard and, in common with most recent productions from Dutton Epoch, is issued in the SACD format.
This new release certainly deserves to take its place as a worthy addition to the canon of British Light Music CDs.
? 2018 Philip Lane
---
You will want to play this great CD over and over again.
All nineteen tracks are delightful and at least two evoke memories of other pieces, especially the march Balmoral, which is uncannily reminiscent of the more famous 1948 Horse Guards Whitehall from Wood's London Landmarks Suite – which became the signature tune of the popular BBC radio programme Down Your Way. The second castle, Caernarvon, is a quieter piece but the third, Windsor (A Gala Night), might remind of you Albert Ketelbey's State Occasion at Buckingham Palace from his Cockney Suite.
Another snappy number is Wellington Barracks whilst Charles Chaplin nicely captures the comic antics of this silent film star.
All the other tracks are also hugely enjoyable and everyone who likes tuneful music should have them in their collection. This is without doubt one of the best Light Music CDs in recent years, so well done to all those who made it possible.
? 2019 Peter Worsley
---
Wood's suites are brought to life with care, affection and a real sense of colour and charm.
It's rather fascinating how much Haydn Wood has remained unrecorded. Other than Snapshots of London, which is receiving its first digital recording, it seems as if everything else is new to disc of any kind, whether shellac, vinyl, or silver.
That's clearly good news for lovers of Wood's insouciant, supremely well-crafted light music which can be enjoyed here in excellent SACD sound. Things open with the stirring 1949 Festival March, with Elgarian reminiscences, commissioned for the first Light Music Festival, and his only BBC commission for a new work. Snapshots of London came a year earlier, a triptych of real contrasts, from the rousing brio of the opening Ballet, the refined impression of Queen Mary's Garden, Regent's Park, and the devilishly fast Quick Step that ends proceedings.
Before the war he wrote a Cook's Tour picture postcard set of three Cities of Romance. Budapest may lack genuine paprika, but that slow-fast Hungarian Gypsy band feel is present. Maybe Wood recalled the recent past when London's restaurants and hotels were littered with so-called Blue Hungarian bands, mostly populated by British musicians forbidden to talk to the clientele lest they give the game away. In his youth, of course, Wood had been a fine violinist and had even recorded as a solo fiddler. The solo playing here is by the BBC Concert Orchestra's leader, Nathaniel Anderson-Frank and there's fine percussion too. Venice's languorous melody is cast in a kind of Barcarolle rhythm while Seville, though supposedly heard in Fiesta time, could just as easily be Italy or, whisper it quietly, Brighton on a particularly raucous Bank Holiday.
Going back to 1929 draws a more mysterioso sense of travelogue from Wood. Recently rediscovered King Tut surely hovers over Egypta, cast in typical three-movement form and if Wood's sense of the exotic is not especially serious, it's rather more refined than, say, Ket?lbey's broad-brush excitement. Dawn in the Valley of the Kings is not without nice features, not least the wind writing, and if the Slave Dance is more shimmy than Bacchanalia then The Court of the Pharaoh is more like it – a serpentine Straussian (Richard) dance with a complement of sublimated erotica.
Haydn Wood loved the cinema as did any number of his peers – Bantock, for example, who was crazy about it. But Bantock never composed Three Famous Cinema Stars, featuring Ivor Novello (a Valse Apache, no less), Dolores Del Rio, for a succulent Elgarian romance, and Charlie Chaplin for a high-jinks finale. Wood reserves one of his memorable tunes for the central panel of the Royal Castles suite of 1952; lend an ear to the beguiling fluidity and nobility of Caernarvon, which is certainly more personalised than the perhaps appropriate formality of the concert waltz to celebrate Windsor Castle or the March King braggadocio of Balmoral. The disc ends with the two Manx Countryside Sketches, composed deep in wartime. The first is a relaxed, refined pastoral that wouldn't have disgraced Julius Harrison and contrasts with the folksy jig that follows.
It's hats off to Gavin Sutherland, a real Ernest Tomlinson of our time, for his effervescent and committed direction of these all-too-little known pieces. He and the orchestra and Dutton have brought them to life with care, affection and a real sense of colour and charm.
Jonathan Woolf / Music Web International ? 2019
Reproduced with acknowledgement to Music Web International