CD REVIEW – HAYDN & BACH CELLO CONCERTOS
Steven Isserlis - The Deutsche Kammerphilharmonie Bremen
Hyperion CDA68162 (77:47)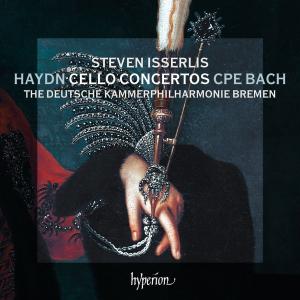 Back in February 1980 I attended a Maidstone Symphony Orchestra concert, where the cello soloist was a 22-year-old Londoner already being recognised as rather special, receiving reviews like "His youth seemed to give him access to open-hearted lyrical flow" (The Times) and "... the discovery of the day … proved his exceptional artistic talent … complete virtuosity … expressive singing tone." (Salzburg Volksblatt). Now – 37 years later – Steven Isserlis is a CBE and recognised as one of the all-time greats of his instrument – the one reckoned to sound closest to the human voice.
He has not made a better recording than this album, featuring the Cello Concertos in C and D major of Joseph Haydn (1732-1809), who was one of the sunniest of classical composers and certainly knew how to write a good tune. It was 'Papa' Haydn who said "When I think upon my God, my heart is full of joy that the notes dance and leap from my pen." The other full work here, Cello Concerto in A major, comes from the great J S Bach's slightly underrated second surviving son, Carl Philipp Emanuel (known today as 'C P E'). Two shorter – although not insubstantial – pieces complete the album: Mozart's Geme la Tortorella from the opera 'La finta giardiniera', and Boccherini's Adagio, the slow movement from his Cello Concerto in G Major.
As well as his own sparkling playing, Isserlis directs the accompanying musicians, with another reviewer opining: "His partnership with the brilliant Bremen orchestra is a musical marriage made in heaven." He is also responsible for the Haydn and Bach cadenzas, which is when the orchestra stops playing, leaving the soloist to play alone and can be written or improvised, depending on what the composer specifies. And, befitting a children's book author, he has written the extensive and very interesting booklet notes. Finally, this well-filled CD has the fine recorded sound typical of the label.
Who could ask for anything more?
Peter Burt © 2017