CD REVIEW – JOSEF GUNG'L– MARCHES, WALTZES and POLKAS
Nuremberg Symphony Orchestra / Christian Simonis CPO 777 582/2 66'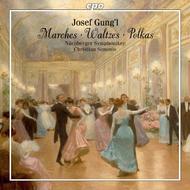 At last (!) a recording company has turned its spotlight on the Hungarian composer Josef Gung'l (1809-1889) whose splendid waltzes, in particular, were often a mainstay of many a Light Music programme during those fondly remembered Golden Days of 'our kind of music' on BBC Radio.
So familiar and well known were his compositions in ¾ time that in those far off days, when I was struggling none too successfully to master the art of piano playing, I possessed a complete album of Gung'l waltzes!
Included here are 'Träume auf den Ozean' , 'Amorettentänze' & 'Die Hydropathen' interspersed between a delightful selection of his dance music in other forms – Marches, Polkas and Galops.
Since all this music is vividly recorded and splendidly played by a fine German orchestra this is surely a "must have" for any serious Light Music aficionado.
Roger Hyslop
.
.
.
.
.