CD REVIEW – GRIEG : PIANO CONCERTO-'PEER GYNT'
Lise Davidsen, Ann-Helen Moen, Victoria Nava (sopranos), Johannes Weisser (baritone), Håkon Høgerno (Hardanger fiddle). Jean-Efflam Bavouzet (piano), Bergen Philharmonic Orchestra and Choirs, cond. Edward Gardner
Chandos CHSA 5190 (83'12)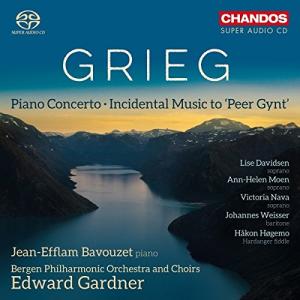 This is the real deal. Edvard Grieg's best-known works performed in Bergen, the city where he was born and died (1806-75), by the orchestra he was MD of from 1880 to 1882, and recorded in the city's Grieghallen.
The Incidental Music to 'Peer Gynt' – a Henrik Ibsen five-act play about the misadventures of a rascally anti-hero from Scandinavian folklore – is usually represented on disc by two four-movement orchestral suites, but here there are twice that number with four featuring up to five choirs, under chorus master Håkon Matti Skrede, including the BP Choir and Edvard Grieg Kor. Among the solo voices Lise Davidsen is described as "a superb talent."
In the Hall of the Mountain King ends as we have probably never heard it before with the bloodthirsty shouts of the trolls to the fore. On the opening three tracks we also hear the Hardanger fiddle: an eight or nine-string Scandinavian folk-instrument with a buzzy, hurdy-gurdy-like timbre.
The soloist for the Piano Concerto is the multi award-winning Frenchman, Jean-Efflam Bavouzet. His is a pleasingly fresh reading of a much-recorded work.
Keeping a firm control of proceedings throughout is our own Edward Gardner, the chief conductor of the BPO (one of Europe's oldest) since 2015, when he completed his ten year tenure as MD with English National Opera.
The recording quality is Chandos exemplary and the album's timing puts to shame some larger labels miserly 50-odd minutes. Booklet notes are most informative.
Don't be surprised if this disc gets you thinking about visiting Norway's second city – but don't forget your umbrella!
© 2018 Peter Burt.