CD REVIEW – PERCY GRAINGER Complete Music for Wind Band 1
Royal Norwegian Navy Band conducted by Bjarte Engeset.
Naxos 8.573679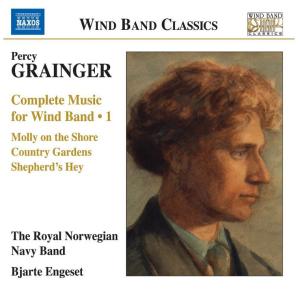 Grainger wrote some splendid tunes and it is always pleasing to hear the old favourites backed up by some less well known ones, including three world premieres.
Let the pieces speak for themselves: Molly on the Shore, Bell Piece, Marching Song of Democracy, Let's Dance Gay in Green Meadow, Country Gardens, Fantasy & Air No. 1, Hill Song No. 2, Folk Tune, Shepherd's Hey, Walking Tune, Spoon River, Down Longford Way, Tuscan Serenade, Chorale No. 2.
Edmund Whitehouse © 2018