CD REVIEW – found in dreams …
Helen Habershon (clarinet)/John Linehan (piano)
divine art dda 25225 [57:12]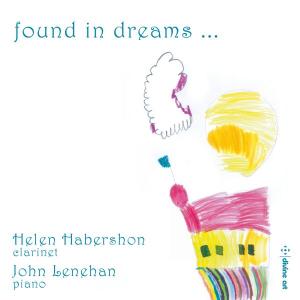 '
When I read a record company referring to a performer/composer and using the words "easy listening" and "in the light music tradition", I soon have their latest CD plopping through my letterbox. So it was with clarinettist Helen Habershon, who I must admit I had not heard of before. Evidently, this is her fourth album, with one receiving 'Album of the Month' and two 'Album of the Week' accolades on Classic fM.
She is accompanied by a name I did know, pianist John Lenehan, which is not surprising as he has over 70 albums to his credit. The Guardian newspaper describes him as "peerless".
The disc is a delightful discovery. It has 19 tracks, with six composed by Habershon: Yesterday's Dreams, Whisperings of Love, Contentment at Dusk, I'll Love You Forever, Love Never Ends and Found in a Dream, that are tuneful, and largely contemplative. There are also two pieces written by Linehan: Dreaming of Summer and Deep Reflections, together with three lovely arrangements.
Some of the tracks will be familiar to readers, such as Fauré's Aprčs un Ręve, Robert Schumann's Träumerie ('Dreaming'), the traditional Deep River and Dvorák's Goin' Home. Short pieces from the repertoire written for clarinet by Debussy, Elgar, Finzi and Brahms are also included. The tempo is upped for my favourite track: Sonatina for Clarinet and Piano – Con Brio written by Joseph Horovitz*, best known for Noah and His Floating Zoo. There is quality playing all the way.
The disc's merits include being ideal restorative late night listening; and Habershon writes in the booklet notes, "I hope this album will enable the listener to take time off from the constant goings on of their lives and dream with the music". Dream on!
In case you are wondering, the booklet cover is a sketch by Helen's grandson George at age 5.
© Peter Burt 2022
*Editor's Note: Viennese-born Joseph Horowitz died recently, at the age of 95, in London. Apart from his composing career, he was a long-time member of staff at the Royal College of Music, where, amongst many others, he taught John Wilson. A very long list of his compositions may be found on Wikipedia, together with much other very interesting information. TC