CD REVIEWS – A FESTIVAL OF FUCÍK
Royal Scottish National Orchestra, conductor Neeme Järvi
Chandos CHSA 5158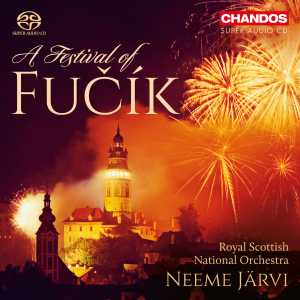 For someone who in his time was considered to be the Bohemian Sousa [American "March King"], it is surprising that Julius Ernst Wilhelm Fucík [1872-1916] does not rate a line in a quartet of music reference books on my shelves. But he must not be thought of as just a band composer/conductor. He first studied the violin, and then switched to the bassoon, and additionally percussion and timpani. Later he joined the composition class of the great Antonin Dvorak. On this well-filled disc of almost 80 minutes duration the 22 tracks include concert overtures and waltzes as well as the marches. He wrote a total of more than 400 polkas, marches, and waltzes. His two best-known works are Entry of the Gladiators, forever associated by oldies with circus clowns, and The Florentiner March. Other titles here include Uncle Teddy, Danube Legends, The Merry Blacksmiths, Children of the Regiment, Little Ballerinas, Under the Admirals Flag, and The Old Grumbler, a toothsome comic polka featuring the RSNO's bassoonist David Hubbard. The conductor is the head of an Estonian musical dynasty with nearly 500 recordings to his name. If you are looking for good tunes well-played they are here a-plenty, all in the celebrated Chandos sound.
Peter Burt © 2015
__________________________
This timely release from Chandos in their "Lighter vein" comes just ahead of the centenary in 2016 of the death of Czech composer Julius Fucik. For much of his life he was a military bandmaster and unsurprisingly prolific in the march idiom. Seven such are included here of which by much the most famous is "Entry of the Gladiators", a title afforded it apparently when it was published in London as a "March of Triumph". It lays claim to being played more often that any other piece of music by any Czech composer.
Also to be found on this very generously filled disc with demonstration sound are two concert overtures, three fine and very likeable waltzes and a novelty number featuring a solo bassoon in "The Old Grumbler" - somebody I can identify with!
A first-class release and thanks are certainly due to the enterprising Neeme Jarvi who has built-up a vast and unhackneyed discography visiting arms of the repertoire ignored by other conductors. His next release is coming fast down the tracks - Offenbach with the Suisse Romande!
Roger Hyslop © 2015