CD REVIEW – MENDELSSOHN Violin Concerto, Symphony no.5, The Hebrides
Isabelle Faust / Freiburger Barockorchester
cond. Pablo Heras-Casado
Harmonia mundi HMM902325 (61:37)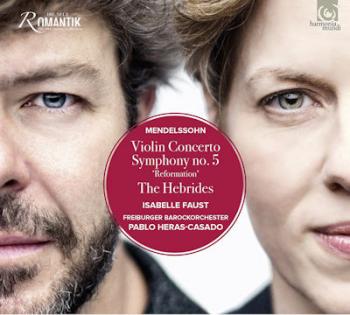 Jakob Ludwig Felix Mendelssohn Bartholdy (1809-47) was a terrifically talented Hamburg-born composer – beginning at age 10 with his works being performed in his father's salons – as well as pianist, organist and conductor.
His was a prominent Jewish family but at the age of seven he was baptised as a Reformed Christian. Ten years later he produced his remarkable overture to A Midsummer's Night's Dream, and in 1829 was responsible for resuscitating Bach's then forgotten St Matthew Passion.
He is thought by many to have been more inspired by Christianity than any other important composer of his sceptical generation. The Symphony no.5, known as the Reformation, is released to celebrate this year's 500th anniversary of that great Martin Luther inspired upheaval in the Church, with its last movement being based on his Ein feste Burg ist unser Gott (A Mighty Fortress is Our God). Completed in May 1830 it did not receive its premiere until November 1832, and then not performed again until 21 years after the composer's death. The performance here is both spirited and graceful.
Isabelle Faust is the superb soloist in the second Violin Concerto, Mendelssohn's last large orchestral work, playing (she uses a Stradivarius "Sleeping Beauty" 1704 violin) as scholars now think the 19th-century violinists would have done. He had taken some six years to compose it, wanting to fulfil his promise of "a concerto to make the angels rejoice in heaven!" An incisive The Hebrides overture (aka 'Fingal's Cave') completes the album.
With its top-rate playing throughout by the German musicians under their Spanish director, this release certainly gives cause for us mere mortals to be glad.
Peter Burt © 2017