CD REVIEW – ESCALES : FRENCH ORCHESTRAL WORKS
Sinfonia of London / John Wilson
Chandos CHSA 5252 (79:05)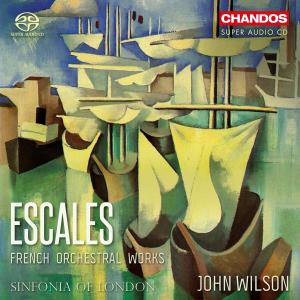 With lead features on him in forthcoming issues of both Gramophone and BBC Music magazines, our charismatic friend from RFS meeting days, John Wilson, is nowadays as 'big' in the world of classical music as he is in the kind of music we love. Here he follows his massively acclaimed album of Erich Wolfgang Korngold works (CHSA 5220) with the re-established Sinfonia of London, this time featuring compositions by French composers.
The album takes its title (evidently also a quite often used crossword clue) from the work by Jacques Ibert. 'Ports of Call' traces a Mediterranean voyage the composer might have made while he was in the Navy during World War I.
The other six works, also from the late 19th or early 20th century, are a mixture of the familiar: Chabrier's España (a sparkling start), Debussy's Prélude à l'après d'un faune, Massenet's Meditation (from 'Thaïs), and the less well-known Duruflé's Trois Dances, Op.6, Saint-Saens' Le Rouet d'Omphale, and Ravel's Rapsodie Espagnole.
As with a lot of French compositions at the time, much of the music is Spanish exotic. It focusses on mood and atmosphere, and in his excellent booklet notes Hugh Macdonald explains that in music this is what is known as 'impressionism'.
While not entirely light music, but with superb playing from the SOL under maestro John's baton (flautist Adam Walker, oboist Juliana Koch and leader Andrew Haveron deserving a mention) and with the customary Chandos quality recording, this release is worth considering … possibly to stream? There are not many compilations like this around these days, and too few of all albums giving as much playing time.
© Peter Burt 2020