CD REVIEW – ENGLISH MUSIC FOR STRINGS
Sinfonia of London | John Wilson
Chandos CHSA5264 (TT 64:46)
'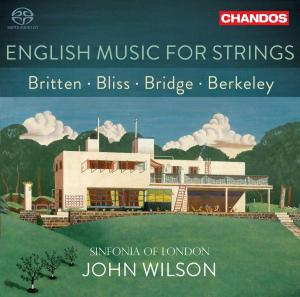 The strings of the superb Sinfonia of London, with Andrew Haveron as leader, are given a chance to shine on this, the award-winning ensemble's fourth John Wilson conducted orchestral release on this label.
Elgar and Vaughan Williams had both written popular works for strings, and they were followed in the 1930s by Britten, Berkeley and Bliss – without them ever quite achieving similar long-lasting acclaim.
Benjamin Britten (1913-76) wrote his Variations on a Theme of Frank Bridge in 1937 as a tribute to his mentor and teacher, and it did help to establish his own international standing as a young composer of note when it was premiered at that year's Salzburg Festival in Germany.
Sir Lennox Berkeley (1903-89) also enhanced his standing with his Serenade for Strings, written at the Old Mill in Snape, Suffolk – Britten's home – during 1938-39. It begins brightly but by the end has become more subdued. With the nations at war there was anxiety as to the world's future then as there is for quite a different reason now.
Sir Arthur Bliss (1891-1975) wrote a lot of works for a wide variety of musical aggregations and was well-known as the composer of the music for Alexander Korda's film of H.G. Wells's 'Things to Come'. In 1953 he was appointed Master of the Queen's Musick. His Music for Strings also had its premiere at the Salzburg Festival, in 1935, given by the Vienna Philharmonic Orchestra conducted by Adrian Boult, who wrote that "it is a difficult work, written for virtuoso players". Such are certainly to be found on this disc.
The album is completed by Frank Bridge's (1879-1941) own short Lament: written for solo piano as a memorial to Catherine Crompton, a nine-year-old who had drowned with her family when the Cunard ocean liner RMS Lusitania was torpedoed by a German U-boat. This version for strings was first played at the Queen's Hall, London during the 1915 Prom season, conducted by the legendary Henry Wood.
The high-quality engineered recording was made by producer Brian Pidgeon and sound engineer Ralph Couzens, in the Church of S. Augustine, Kilburn, London on 9-11 January 2020. It was on the last day that a small story appeared on newspaper inside pages: Chinese state media reports that a 51-year-old man, a regular customer of a 'wet market' in Wuhan, has died from 'a new respiratory virus'.
My prediction is that this release will add further laurels to the Gateshead-born maestro and his marvellous musicians.
An afterthought: The last SOL/Wilson critically praised best-selling album, Respighi's 'Roman Trilogy' (CHSA 5261), was appropriately released by Chandos Records who are based in Colchester, which back in Roman times was a city called Camulodunum and first capital of the province of Britannia.
© Peter Burt 2021