CD REVIEW – ELGAR AND HIS PEERS
The Art of the Military Band
SOMM CD0170
London Symphonic Concert Band conducted by Tom Higgins and the Joyful Company of Singers directed by Peter Broadbent.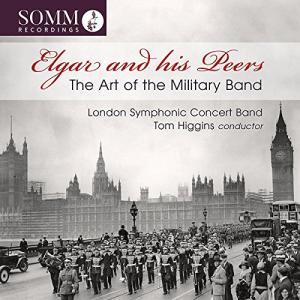 Elgar - Pomp & Circumstance Marches 2 and 5; Severn Suite (including Worcester Cathedral, Tournament and Commandery); Two Tower Chorales (after Bach); Queen Alexandria Memorial Ode; With Proud Thanksgiving; Vaughan Williams, Sea Songs, Toccata Marziale; O'Donnell, Three Humoresques (Pride & Prejudice, Prevarication, Petulance and Persuasion); Beecham, March.
This unusual collection includes the premier recording of a rousing march by Sir Thomas Beecham plus five other first recordings to boot. The detailed liner notes explain Elgar's patriotic passion for both his country and the Royal Family, plus his heartfelt need to commemorate the fallen of the Great War in musical form. An enigmatic cover picture shows what is purported to be the Band of the Coldstream Guards crossing Westminster Bridge in 1932 but dressed in a most non-guards like uniform minus their 'busbies'.
SOMM are to be encouraged in their ongoing programme of CDs.
© Peter Worsley
June 2017