CD REVIEW – E J MOERAN
In the Mountain Country
Rhapsodies
Overture for a Masque
Benjamin Frith, Piano; Ulster Orchestra . JoAnn Falletta
Naxos 8.573106 (57:06)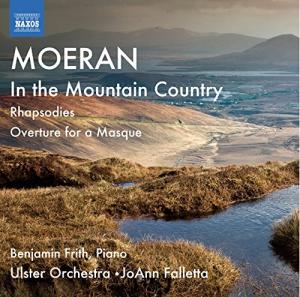 E J Moeran … who he? You would not have asked that question had you been an English music devotee during the first half of the 20th century. Ernest John was born the son of a country vicar of Irish origin at Heston (now Hounslow), Middlesex in 1894 and brought up in Norfolk. His studies at the Royal College of Music were interrupted by WW1, during which he received head injuries, and then became known for his chamber and folk compositions.
In 1934-37 he wrote the acclaimed Symphony in G minor (Naxos 8.555837), with some people wondering whether he could be another Ralph Vaughan Williams.
He died in 1950 with his Symphony No.2 unfinished* – possibly partly due to the demon drink having done for him – and his star somewhat dimmed; although he did produce well-received cello and violin concertos in the early '40s.
I understand that two pieces of church music, Services in D and E-flat, are still performed today. A lot of his music is folk-flavoured and that is evident on this album in his first ever orchestral work In The Mountain Country, and Rhapsody No.1 in F major.
Pianist Benjamin Frith plays superbly on the 17-minute Irish-sounding mini-concerto Rhapsody in F-sharp major. Two other melodic works: Overture for a Masque and Rhapsody No.2 in E-major complete the CD. Throughout the disc the exciting New York born conductor JoAnn Falletta has the full measure of the music and the Ulster Orchestra produces some sumptuous sounds. The recording quality is excellent.
There is no point lamenting what might have been for what there is of 'E.J's' music is too good to ignore. Well done to Naxos for reminding us of a forgotten significant English composing talent with this release, which is not new but well worth acquiring for only £5.99 in HMV stores or online at http://best-cd-price.co.uk.
Peter Burt © 2017
[*Sketches for Symphony No.2 in E flat realised and completed by Martin Yates on Dutton Epoch CDLX 7281]