CD REVIEW – DELIBES : BALLET SUITES
Royal Scottish National Orchestra / Neeme Järvi
Chandos CHSA 5257 (82:55)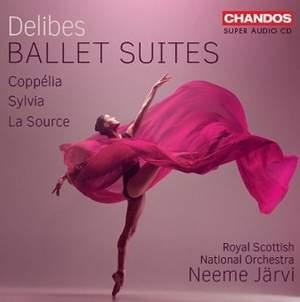 French composer Léo Delibes (1836-91) is entitled to be reviewed here as he was blessed with a natural gift for likeable, easily assimilated melodies: his music being described as having "charm, elegance, wit and grace".
After his first ballet, 'Le Source' in 1866, came two lasting masterworks: 'Coppélia', with its brilliantly orchestrated dances; and 'Sylvia', which gets the album off to a rip-roaring start featuring the French horns in Les Chasseresses. Another very recognisable track is the delightful Pizzicato. The violin solo in Act III is by orchestra leader Sharon Roffman.
Delibes was in the vanguard of creating orchestral suites from his ballet music; and evidently the finest ballet composer of all, Pyotr Tchaikovsky, very much admired and was influenced by these works. The suites for this disc have been compiled by maestro Järvi.
As with a lot of ballets, however gorgeous the music, the stories are often quite bizarre. 'Coppélia' or 'The Girl with Eyes of Enamel' is a tale of love, mischief and mechanical dolls. 'Sylvia' or 'The Nymph of Diana' is all about deception, unrequited love, suspense, obsession and abduction. 'Le Source' or 'The Spring' tells the complex story of the beautiful Circassian princess Nouredda, and her admirer Djemil, that ends happily with the help of a water nymph named Naila.
The performances by the leading Scottish orchestra are polished and stylish. Neeme Järvi (born 1937) is the eminent Estonian-American conductor – the principal conductor of the RSNO from 1984 to 1988 and now Conductor Laureate – who has a discography of nearly 500 recordings and been a Chandos Records star for over 30 years with more than 200 albums. A number of these have been reviewed on this website in recent years. Interestingly, his sons Paavo and Kristjan are also well-known conductors.
Contemporary writings indicate that Delibes was concerned only to please. This is certainly what he does for me with this desirable disc/download, and I hope for you too.
An afterthought: the last time I reviewed a release on this label I commented on its short measure. This time I doubt if any more music could have been got on to the CD.
© Peter Burt 2020