CD REVIEW – DAG WIRÉN
Iceland National Symphony Orchestra conducted by Rumon Gamba
Chandos CHSA 5194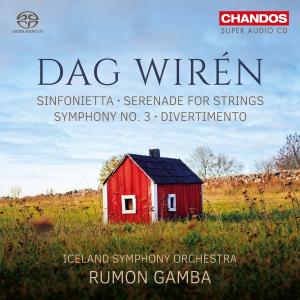 Symphony No. 3; Sinfonietta; Serenade and Divertimento. The march from Serenade became famous because it was used as the signature tune for Monitor, a cultural programme on BBC television, which aired from the late '50s to the mid '60s. Wirén's work is not unlike that of Carl Nielsen and makes a pleasant change from the same tunes trotted out daily by Classic FM.
Scandinavia's most famous musical son was Edvard Grieg but it also produced several less-well-known tuneful composers, of which Wirén is one. Try him!
Edmund Whitehouse © 2018