CD REVIEW – COPLAND : Orchestral Works 1 - Ballets
BBC Philharmonic /John Wilson
Chandos CHSA 5164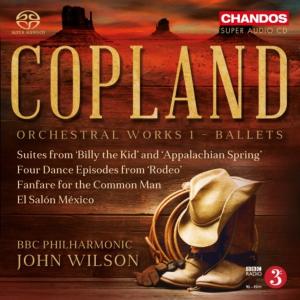 Aaron Copland (1900-90) was probably America's greatest native-born composer. His continuing popularity primarily, although not solely, rests on his three folksy ballets. These are meat and drink to BBC Proms favourite John Wilson and the BBC Philharmonic respond outstandingly well to his conducting. Memories of Leonard Bernstein are sometimes evoked.
On an album of 79.5 minutes duration the first two items are the familiar Fanfare for the Common Man (1942), and El Salón México (1932-38), which widely uses Mexican folk melodies. The Suite from 'Billy The Kid' (1938) is well-known for its incorporation of several cowboy tunes and American folk songs. 'Rodeo' (1942) is in similar vein but leaves the folk element relatively intact with very little alteration on the part of the composer. Of the Four Dance Episodes here the final Hoe-Down is great fun. The well-known last variation in the Suite from 'Appalachian Spring' (1943-4) is the Shaker tune Simple Gifts that Sydney Carter used for his hymn Lord of the Dance.
Chandos deliver their usual high quality sound and I look forward to further releases in the series.
Peter Burt © January 2016