CD REVIEW: RAY CONNIFF
LAUGHTER IN THE RAIN & LOVE WILL KEEP US TOGETHER
Vocalion CDLK 4602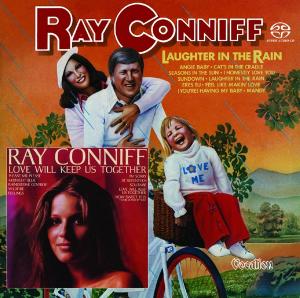 Conniff (1916-2002) – another Vocalian lists debutant – his orchestra and chorus (12 women and 13 men) turned out immaculate albums like this 2-on-1 for years. It was back in 1956 that he began experimenting with voices as an integral part of the orchestra and his LPs developed the old swing era formula he had used as an arranger with Artie Shaw, Harry James and others. He is reckoned to have sold around 70 million albums, the last being released in 2000.
The two here are both from 1975 and contain 19 tracks including the album titles, I Honestly Love You, Angie Baby, Seasons in the Sun, Erus Tu, Cat's in the Cradle, Feel Like Makin' Love, Midnight Blue, Rhinestone Cowboy, Feelings, and Solitaire.
All the arrangements are by Mr Conniff. His trombone playing is also credited on the second album. If you like the 'Conniff Sound' and missed these albums first time around, you need not hesitate in adding this hybrid disc to your collection. There is added value with very comprehensive liner notes by Tony Clayden.
Peter Burt
© 2017