CD REVIEW – LOUIS FRÉMAUX
The Complete CBSO Recordings
Warner Classics 0190295886738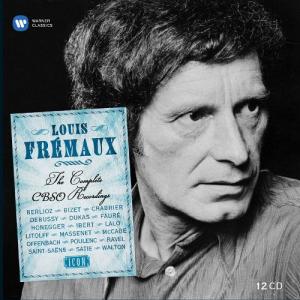 This release is a well-filled remastered 12-CD box set in Warner's Icon series which celebrates the conductor Louis Frémaux – who died in March this year aged 95 – with a very interesting back story. Having fought in the French resistance through WWII, he was given a commission in the Foreign Legion and served in Vietnam during 1945-46. By 1954, he was making his mark as a conductor, but was called back to the Legion and posted to Algeria. He was twice awarded the Croix de Guerre.
In 1969 Prince Rainier of Monaco intervened in person to have Frémaux discharged from the military and so began a decade with the Opèra de Monte-Carlo, building up an international reputation. He took over the City of Birmingham Symphony Orchestra at low ebb for them in 1969, (the year he was made a Chevalier de la Légion d'Honneur), and nine years later his successor (Sir) Simon Rattle described them as "the best French orchestra in the world."
This box-set includes all the recordings Frémaux made with the CBSO for EMI, most of it by French composers. The longest work is their highly regarded Grande Messe des morts by Hector Berlioz. Other highlights include Saint-Saëns' famous 'Organ' Symphony (No.3), The Carnival of the Animals, and his two Cello Concertos, Faure's Requiem and Cantique de Jean Racine, and Walton's Façade, The Wise Virgins (based on scores by J S Bach), Gloria, Te Deum, Orb and Sceptre, and Crown Imperial.
Other shorter works include Litolff's Scherzo played by John Ogden, Chabrier's España, Debussy's Prélude à l'après d'un faune, and Ravel's Bolero. Other works are by Bizet, Dukas, Honegger, Ibert, Lalo, Massenet (including Last Sleep of the Virgin), McCabe, Poulenc, and Satie. The twelfth disc has the first album to be recorded and features arias sung in English by the post-pop tenor David Hughes; also five sparkling overtures by Offenbach: both debut digital releases.
All-in-all, there is an absolute abundance of attractive music here that has given me immense pleasure over the last couple of months. And, in addition to everything else, it is an incredible bargain at around £25.
Peter Burt © 2017