CD REVIEW – COLE PORTER IN HOLLYWOOD
THE JOHN WILSON ORCHESTRA
Warner Classics 2564627680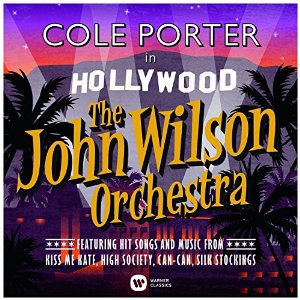 Tynesider John Wilson – whom I was fortunate to meet a number of times as a fellow member of the Robert Farnon Society – and his handpicked orchestra of top-notch musicians have wowed BBC Proms audiences over the last five seasons with their reconstructed original arrangements* and studio-style playing of classic film and theatre musicals. These involve a 68-piece orchestra including nine percussionists and a big band section. On their latest CD release, honouring the 50th anniversary of his death, they turn their attention to arguably the greatest popular composer and lyricist of them all: Cole Porter. Here are just 15 [with room for more] of the over 800 songs he wrote, including Begin the beguine, From this moment on, Wunderbar, Easy to love, Who wants to be a millionaire?, Let's do it, Now you has jazz and other movie numbers from 'Silk Stockings', 'The Pirate', 'Kiss Me, Kate', 'High Society', 'Let's Make Love', 'Can-Can' and 'Les Girls'. Porter's hallmark witty and sophisticated words are sung by Anna-Jane Casey, Kim Criswell, Matthew Ford, Sarah Fox, Richard Morrison and the Maida Vale Singers. This is an album guaranteed to banish the blues, and is now available at a bargain price online.
[* Incredibly, many of the originals had been sent to landfill by MGM in 1969 leaving only the short scores or piano scores, which John and Andrew Cottee painstakingly used as a guide when reconstructing].
Peter Burt
April 2015