CD REVIEW: PERCY FAITH
CHINATOWN / LOVE THEME FROM ROMEO AND JULIET
Vocalion CDLK 4599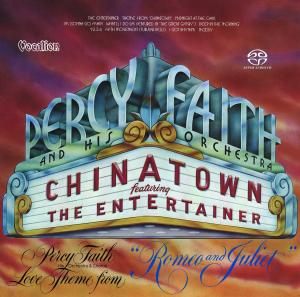 It is good to welcome Percy Faith to the Vocalion catalogue – the home of the world's best light orchestral recordings. Whilst, for me, neither of the albums on this 2-on-1 would rank in the top echelon of the Faith discography, they are both interesting.
The first from 1974 is a ten-track collection of music, in what Tony Clayden's excellent liner notes call "a more contemporary sound", including Jerry Goldsmith's title film theme, Scott Joplin's The Entertainer, Irving Berlin's What'll I Do, Neil Diamond's Deep in the Morning, Mike Oldfield's Fifth Movement (Tubular Bells), The Gershwin's I Got Rhythm, and Faith's own 1,2,3,4.
The second recorded in Hollywood features the orchestra and chorus. I much prefer the orchestra sans singers but this album won a Grammy Award in 1970, so what do I know? As well as the title track the other ten include vocal versions of Faith's big hit single A Summer Place, the catchy Spinning Wheel, Bacharach and David's The April Fools, Aquarius and Good Morning Sunshine, from the musical 'Hair', and two Nilsson numbers, One and Without Her. I was also rather taken by a piece called Hello, Tomorrow. As usual Faith is responsible for all the arrangements.
Production-wise, it is a hybrid disc with all the tracks available in stereo and multi-channel, but playable on any standard CD player. I hope that this may be the forerunner of some earlier classic Faith to come.
Peter Burt
© 2015.