CD REVIEW – CARNIVAL OF THE ANIMALS
THE KANNEH-MASONS
Michael Morpurgo / Olivia Colman
Decca 4851156 (64:02)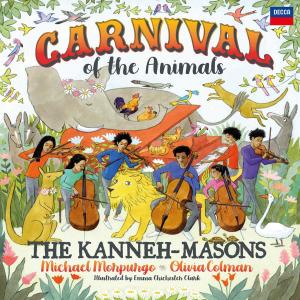 This is the first album by the whole incredibly gifted family septet of young musicians from Nottingham, two of whom – cellist Sheku and pianist Isata – already have albums on the Decca label. They have chosen Saint-SaŽns' zoological classic, a favourite for many children of all ages, including oldies like me.
Each instrumental piece is preceded by a new set of words written by the author Sir Michael Morpurgo and spoken by him and the Academy Award Winner actor, Olivia Colman. These are on separate tracks so can be programmed out. Members of the family are supplemented by violin, viola, double bass, flute/piccolo, clarinet, xylophone and glass harmonica. It is an exciting project very well recorded.
The album also features 'Grandpa Christmas', a tale again written by Sir Michael and set to music by Tchaikovsky, Bartok, Grieg, Rimsky-Korsakov and Castelnuovo-Tedesco, with a new arrangement of Eric Whitacre's The Seal Lullaby, played by the magnificent seven siblings, with four making their recording debut. The author narrates as the grandfather and the family's youngest, 11-year-old Mariatu, is the well-spoken granddaughter. She is encouraged to love and care for the natural world – a lesson we all need to heed. The album concludes in a delightful performance by the family of their own arranged Bob Marley's Redemption Song.
This is altogether an enchanting album and I feel sure it would be a very acceptable Christmas gift – for yourself as well as for your family and/or friends.
© Peter Burt 2020