CD REVIEW – BRYN TERFEL - Dreams and Songs
Deutsche Grammophon 4835514 (47:40)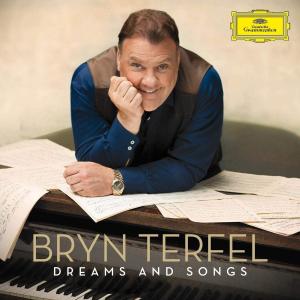 The Welsh-born bass-baritone (born 1965) is a knight of the realm and an internationally renowned opera singer, but this album – which has been high in the charts – is Terfel-lite. The big man sings I Believe, The Fields of Athenry, If I Were a Rich Man, Trees, the traditional Ar Lan Y Mor, Charles Chaplin's Smile, and Flanders and Swann's The Hippopotamus Song.
Sir Karl Jenkins has written The Shepherd Poet of Passchendaele especially for him and this is its premiere recording. He duets on the remaining six tracks with a stellar line-up of other artists: Alfie Boe on John Denver's Perhaps Love, Dame Emma Thompson on Do You Love Me? (from 'Fiddler on The Roof'), his wonderful fellow opera star the lyric-soprano Danielle de Niese on Amazing Grace, Katherine Jenkins on Tell My Father (from 'The Civil War'), the popular Maltese tenor Joseph Calleja on Granada, and actor/comedian/presenter Rob Brydon on The Golfer's Lament written by Albert Hay Malotte, known for his setting of The Lord's Prayer.
The soloists are well supported throughout by the Czech Philharmonic or Royal Philharmonic Orchestra and Metro Voices under Paul Bateman, the new principal conductor of the National Symphony Orchestra. This is a quality release although it is a pity that Sir Bryn's first album for five years should not have been longer.
Nevertheless, strongly recommended for some interesting items and splendid singing.
If you like the look of the above you might also be interested in Katherine Jenkins' latest album Guiding Light (Decca 4817274), with among the 15 tracks the likes of the title song, Jealous Of The Angels, Blinded By Your Grace and To Where You Are, as well as familiar titles such as Morning Has Broken (with Bryn Terfel), Gaelic Blessing by John Rutter, Make Me A Channel Of Your Peace, Come Thou Fount Of Every Blessing, Eternal Father Strong To Save, Nearer My God To Thee, and Peace In The Valley.
A lovely album from a lovely artist.
© Peter Burt 2018