CD REVIEW – BRITISH VIOLIN SONATAS Volume 2
Chandos CHAN 10899 - Tasmin Little with Piers Lane. Bridge; Ireland; Bliss; Vaughan Williams and William Lloyd Webber.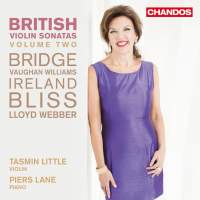 If you are a violinist then you will enjoy these lesser-known works. A full interesting and informative description of each piece is contained in the liner notes which help the listener to better understand their complex histories.
Did you know Bliss fought on the Somme with the Royal Fusiliers and then, after injury returned to fight with the Grenadier Guards in 1918? In between, his lost his devoted brother on the battlefield.
The other composers were also heavily influenced by the Great War and we can only conjecture about their mixed feelings.
EDMUND WHITEHOUSE - April 2016
Tony Clayden adds a footnote :-
Sadly, George Butterworth, a friend and contemporary of Ralph Vaughan Williams, was not so fortunate. He died in the Battle of the Somme in August 1916. If he had survived, I believe that he would have become as great (or even greater) a composer as RVW. A tragic loss to English music.
.
.
.