CD REVIEW – ALED JONES & RUSSELL WATSON
Back in Harmony
BMG 538539282 (48'41)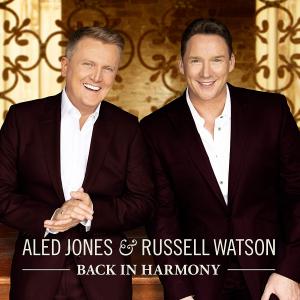 14 tracks including, Funiculi, Funicula; Nella Fantasia; Shenandoah; Impossible Dream; Night and Day; Make Me a Channel of Your Peace; The Loveliest Night of the Year; and The Lord Bless You and Keep You.
This is the follow-up to the couple's first album, 'In Harmony', which was last year's biggest seller by homegrown artists in the Classic FM chart. There is no reason why this should not be equally successful. Aled believes that it is even better than the first!
An especially interesting track is In Flanders Field, a vocal version of Vaughan Williams' Prelude from the 49th Parallel. There is an Ave Maria, this time by Caccini, and The Lord is My Shepherd is by Howard Goodall. The concluding tracks are a 5-minute Christmas Medley of three carols, and Have Yourself a Merry Little Christmas.
As last year, there are contributions from supporting singers recorded in Wilmslow and London, and the orchestra was recorded at Orange Studio, Christchurch, New Zealand. Their accompaniment to Lucky, Lucky, Lucky Me is a particular delight.
Despite what I wrote in my earlier review (!), BMG has failed to increase the length of the album – in fact, this is shorter by six minutes – or the print size of the digipak notes, although they are definitely easier to read on a white background.
With the added value of some nice photographs of the two singing friends, this will be a much-appreciated Christmas gift in a lot of households.
© Peter Burt 2019