CD REVIEW – AND THE BRIDGE IS LOVE – ENGLISH MUSIC FOR STRINGS
English Chamber Orchestra / Julian Lloyd Webber, Cello and Conductor
Naxos 8.573250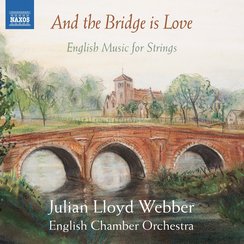 The title piece, a world première, was written by Howard Goodall – the composer of TV's 'The Vicar of Dibley', 'Mr Bean' and 'Blackaddder' themes – and, sadly, is the final recording by the celebrated cellist due to a herniated disc in his neck. He takes up the baton for the other dozen items on this disc, and very successfully, too. As well as works by Elgar (including Chanson de nuit and Chanson de matin), Vaughan Williams, Elgar, Delius, and Ireland there is another world première, The Moon, written by Julian's father, William, who was organist and choirmaster of All Saints, Margaret Street, London throughout the last war before becoming Musical Director at the Methodist's Westminster Central Hall. My favourite tracks include Walton's Two Pieces for Strings from Henry V, the famous 1944 film starring Sir Laurence Olivier. This 70-minute album would be recommendable at twice Naxos's super-bargain price of £6, and I look forward to hearing more from Julian in his new role.
Peter Burt
April 2015
.
.
.