CD REVIEW – ANDREA BOCELLI
BELIEVE
Decca 3515851 (58:39)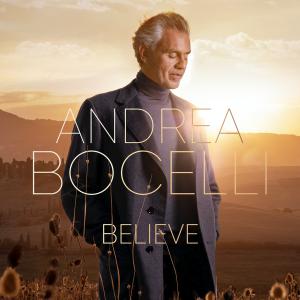 The 62-year-old Tuscan tenor, Andrea Angel Bocelli, who lost his sight in a footballing accident aged 12, is the best-loved classical/crossover singer in the world. On Easter Sunday this year his solo lockdown concert 'Music for Hope' from the magnificent Duomo Cathedral in Milan had 35.4 million people viewing it online by the beginning of the following Wednesday.
He has sold over 90 million albums worldwide. In 2018 his last album 'Sì' reached the top spot in both UK and US charts, and in the case of the former its tenure there can be measured in months rather than weeks.
This, Bocelli's 17th studio recorded release, is devoted to uplifting songs, and is described as "a poignant and personal collection celebrating the power of music to soothe the soul", which is something much needed in these troublesome times.
Among the 14 tracks are You'll Never Walk Alone; Leonard Cohen's earworm Hallelujah; Inno Sussurato, most likely the last song Ennio Morricone ever composed; Oh,Madre Benedetta! (Adagio Di Albinoni), lyrics by Bocelli; and Ave Maria, music composed by Bocelli.
Andrea duets with his fellow countrywoman, the wonderful operatic mezzo-soprano Cecilia Bartoli, on Pianissimo and I Believe. The American country-bluegrass singer Alison Krauss, the most awarded singer in Grammy history, joins him on Amazing Grace.
The album was recorded in Prague with the Czech National Symphony Orchestra and Chorus, and Kühn Children's Chorus, all under the baton of the CNSO's American conductor and music director, Steven Mercurio, who also arranged and/or orchestrated the majority of tracks. VOCES8 vocals were recorded in London.
Bocelli's Christian faith is reflected in his song choice; as it is with the good works done by his eponymous Foundation. An Andrea admirer, your reviewer is named in the very interesting booklet among the singer's "Thank You To Those Who Believe".
A treasurable album.
© Peter Burt 2020