CD REVIEW – ANDRÉ RIEU AND HIS JOHANN STRAUSS ORCHESTRA
Romantic Moments II
Decca 2640791 (67.00) + DVD (40.00)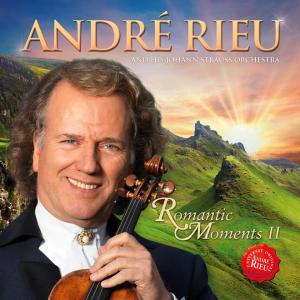 Around the World, Sunrise Sunset, Strangers in the Night, Sail Along Silvery Moon, Evening Prayer (from 'Fiddler on the Roof'), Gem hab' ich die Frau'n gekusst (from 'Paganini'), Dorfschwalben aus Österreich, Du schwarzer Zigeuner, Morning Hymn (from 'Sound of Music'), Red Roses for a Blue Lady, El cóndor pasa, Träumerei, The Way Old Friends Do, Vilja Song, An der schönen blauen Donau [On the Beautiful Blue Danube], Amazing Grace.
Eagerly anticipated by the multitude of his many fans, André Rieu can always be relied on to mark the year's end with another compilation of fine melodies, and this is no exception. (Village Swallows has long been one of my favourite pieces.) Leading the ensemble with his 1732 Stradivarius violin, this latter-day Johann Strauss really is a musical marvel and the New York Times has rightly named him "Maestro of the Masses."
Each year more than 600,000 people enjoy his concerts and during the thirty years since he created his orchestra, they have sold 40 million CDs and DVDs and made it to the top of 30 best-selling charts worldwide.
This release, which includes a 10-track DVD A Summer Night with André Rieu (no titles being repeated), will be expected to once again appear in the UK Top 10 pop chart. We are fortunate to have albums like this to cheer the dark days ahead – whether caused by climate or politics !
© 2018 Peter Burt