CD REVIEW – ANDRÉ RIEU AND HIS JOHANN STRAUSS ORCHESTRA
AMORE
Decca 5790054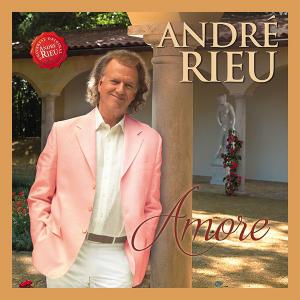 '
The charismatic Dutchman and his beloved orchestra founded 30 years ago are nowadays the nearest we get to new recordings of "our kind of music", and this album comes on the back of incredible sales for their last year's offering of 'Falling In Love' (Decca 5708288, reviewed here this January).
Although his music may be thought by some to sound a bit "samey" there are some interesting instrumentalists featured and the track selection has plenty of variety. Among the 18 on the CD we have well-loved hits of the past: Louis Armstrong's What A Wonderful World (50 years since it was in the charts), Nana Mouskouri's Only Love, Richard Clayderman's Ballad For Adeline, and Presley's Love Me Tender; film themes: Jerusalem of Gold ('Schindler's List') and My Own Home ('Jungle Book'); show tunes: The Impossible Dream ('Man Of La Mancha') and Think Of Me ('Phantom Of The Opera'); Strauss's Music Of The Spheres and Tales From The Vienna Woods; golden oldies like The Last Rose and Speak To Me Of Love; and, as a finale, a cracking live version of Highland Cathedral – composed by German musicians Ulrich Roever and Michael Korb in 1982 for a Highland Games held in Germany – replete with bagpipes.
But that's not all: for our money (£7-£9) there is also a two-hour DVD 'Live In Sydney' featuring a further 30 tracks beginning with Seventy-Six Trombones and ending with Advance Australia Fair. Be warned: five of them involve Dame Edna Everage.
Over the years André et al have been awarded a record-breaking 500 Platinum Awards. I see no reason why this album, with its accent on heart-warming melodies, should not become a worthy addition to that list.
© 2017 Peter Burt.