CD REVIEW – ALED JONES
Blessings
BMG 538643602 (54:36)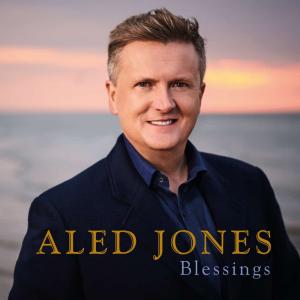 The personable presenter of Classic FM programmes and the BBC TV's 'Songs of Praise' shows off his fine tenor voice again in this his 40th album. It is a collection of 15 pieces which touch on a range of faiths – and none. In his booklet notes Aled writes that "The events of the last months have impacted us all and made us re-evaluate what is important in life. I hope this album will help with the healing process".
As well as Aled's solos – including his self-penned Australian Blessing – a feature of the album is where he is joined by other artists, opening with the great actor Dame Judi Dench on How Can I Keep From Singing and closing with Brian Blessed on Silent Night, although neither actually sing.
In between Aled does get to sing with Susan Boyle: Bless This House, Libera: Vespera, The Priests: Irish Blessing, and Sami Yusuf: Song of Our Maker. A standout track is If I Can Help Somebody/Let There Be Peace On Earth on which Aled sings with a recording of himself as a boy soprano chorister, and there are words spoken by the D Day veteran Harry Billinge MBE.
The orchestra is the New Zealand Sinfonietta conducted by Tom Rainey and was recorded in Christchurch, NZ. There are instances where the volume of the accompaniment for the vocal tracks, that were all recorded around the UK, could have been turned down a tad.
Aled is 50-years-young this year and in celebration this uplifting album deserves to achieve what he set out for it to do.
© Peter Burt 2020