Aspidistra Drawing Room Orchestra Concert
May 31st 2021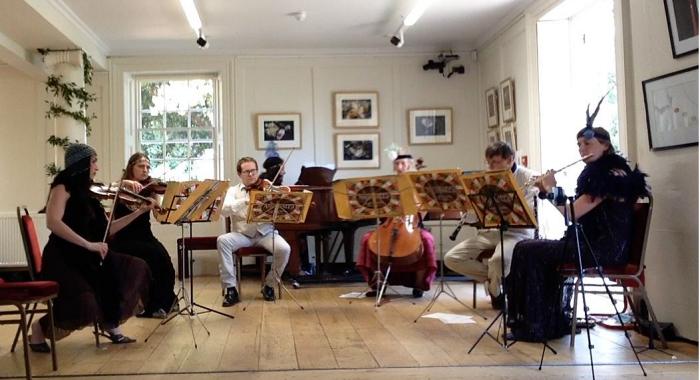 After a year's absence – perforce due to the Covid virus – and following a miserably wet and mostly cold May, a wonderfully warm and sunny Spring Bank Holiday Monday heralded a most welcome return of the Aspidistra Drawing Room Orchestra to the historic Lauderdale House on Highgate Hill, North London.
The venue's staff had ingeniously managed to arrange socially-distanced seating in family 'bubbles'. I am told that the attendance was, however, nearly as great as at the ADRO's previous concerts. In addition, due to the marvels of modern technology and some intensive work by the orchestra's flautist, Ana Arnold, the event was streamed and watched by very many more people.
With the exception of 2020, Adam Bakker and his intrepid band of musicians have presented a concert annually since 2003. A good number of us, including 'yours truly', have managed to attend every single one, and there were many 'regulars' present, together with some new friends as well.
The instrumental line-up consists of a string quartet, i.e. two violins, viola and cello, together with piano, oboe/cor-anglais and flute/ piccolo. This has always required the creation of special arrangements, a task chiefly undertaken by Adam, although in earlier days former flautist Roy Bell also contributed to the ensemble's now extensive repertoire.
Almost all the items were given an 'airing' for the first time by the ADRO and we were treated to an interesting selection of pieces by composers hailing from several different parts of the world.
Traditionally, Palm Court orchestras were regularly hired to provide entertainment before the advent of sound recording. They played the popular music of the period, together with reduced arrangements of great orchestral works, which often didn't make for a great deal of authenticity !
There was no particular 'theme' to this concert, but there were several recurring subjects – animals, love, dance and nostalgia being the main ones. The diverse programme included Jaime Texidor's Amparito Rocca, Duke Ellington's Creole Love Call, the Donkey Serenade by Rudolf Friml, Pony by Josef Rixner, two relatively modern titles, Beachcomber by Clive Richardson and Sydney Del Monte's Heather On The Pampas, and the traditional tune Eriskay Love Lilt.
A few songs were included, performed by mezzo-sopranos Camilla Cutts and Liz Menezes, who is also the lead violinist. Amongst others, Liz sang Walter Hirsch's novelty song, Horsey ! Keep Your Tail Up. Liz mentioned that her grandmother used to sing this to her – as did my grandmother to me ! Camilla gave a wonderful rendition of the Habenera from George Bizet's Carmen.
The final scheduled item was the song Keep The Home Fires Burning, by Ivor Novello, expressing a sentiment which is very appropriate for these troubled times.
As always, the Orchestra performed with great style and enthusiasm, and it is no exaggeration to say that a thoroughly enjoyable afternoon was had by all; it is hoped that we will be treated to 'more of the same' next year.
? Tony Clayden 2021