Vince Hill
(1934-2023)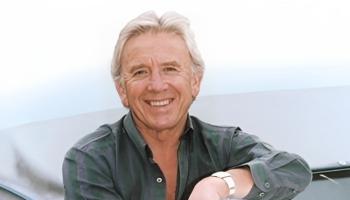 The popular British singer Vince Hill passed away in July aged 89. His career spanned almost fifty years and embraced concert halls, cabaret, television and radio and straight acting. He was a prolific recording artist and is said to have spent more time at Abbey Road recording studios than The Beatles.
After working variously as a coal miner, baker and lorry driver he decided to become a professional singer. He was briefly a member of The Raindrops vocal group but was persuaded to go solo by his wife Sophie, who worked for Cliff Richard's agent Tito Burns and whom he had married in 1959. He released his first single, The Rivers Run Dry, on the Piccadilly label in 1962. He had a minor hit the following year with A Day At The Seaside which was one of the shortlisted UK entries for the 1963 Eurovision Song Contest (it was beaten by Ronnie Carroll's Say Wonderful Things). In 1965 he was signed by EMI Records and scored success with Take Me To Your Heart Again (an English language version of La Vie En Rose), Roses Of Picardy and Look Around (And You'll Find Me There). In 1967 came his biggest chart hit, Edelweiss from Rodgers & Hammerstein's The Sound Of Music (Tim Rice was the coffee boy for this particular recording session!). It was on the strength of this million seller that he topped the bill at the London Palladium and Talk Of The Town and toured Down Under to Australia and New Zealand. He also worked on cruise ships and in summer season shows, and made frequent guest appearances on TV programmes such as The Good Old Days and Blankety Blank. In 1983 he controversially recorded the Conservative Party's manifesto song It's Maggie (Thatcher) For Me.
In the late 1980s Vince was the guest singer on an edition of Radio 2's David Jacobs Lunchtime Show devoted to the music of Rodgers & Hammerstein…. he was accompanied by the Stephen Hill Singers and the BBC Radio Orchestra conducted by Stanley Black. The producer was Yours Truly and I still have a copy of the tape. The following year he played the role of Ivor Novello in the stage musical My Dearest Dear and followed that up with his own musical entitled Zodiac.
In 2004 Vince was diagnosed with prostate cancer and although this was successfully treated it returned in due course. Tragedy struck in January 2014 when his and his wife's Sophie's only son Athol died of a drug overdose at the age of 42, leaving behind two children. Just two years later Sophie passed away from pulmonary thrombosis.
In September 2018 he appeared in what was described as his final farewell show at the Kenton Theatre in Henley-on-Thames, donating the proceeds to the Macular Society, of which he had become a Patron. He suffered a stroke in 2021.
Vince's autobiography Another Hill To Climb was published in 2010. For further information, including extensive clips from television appearances alongside Cilla Black and others, do visit the website www.vincehill.co.uk

© Anthony Wills