Tony Bennett
(1926-2023)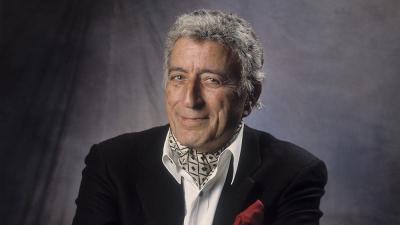 The universally admired jazz and popular music singer Tony Bennett, once acclaimed by Frank Sinatra as the best in the business, died in July aged 96. Throughout his long career, he championed the Great American Songbook as personified by the likes of Irving Berlin, George Gershwin and Cole Porter. His recordings spanned sixty years producing enough material to fill more than eighty CDs. He sold more than fifty million records in his lifetime and received nineteen Grammy Awards.
In addition to his solo work he duetted with, among others, Stevie Wonder, Barbra Streisand, Willie Nelson, Aretha Franklin, Billy Joel, Diana Krall, Amy Winehouse and, latterly, Lady Gaga - their 2015 concert Cheek To Cheek Live!, shown on Sky Arts last Christmas, was an unforgettable viewing experience.

Born Anthony Dominick Benedetto, in the Queens neighbourhood district of New York, Bennett was the second son of poor Italian immigrants. At the height of the Depression his father died and he was compelled to earn money as a singing waiter in Italian restaurants.
At the end of November 1944, he was drafted into the U.S. Army and saw active service in France and Germany, narrowly escaping death on several occasions. In 1949 he was spotted by Pearl Bailey who invited him to open for her in Greenwich Village. Bob Hope was in the audience and took him on tour.

The following year he signed a recording contract with Columbia Records. His first major hit, produced by Mitch Miller, was the ballad Because Of You, in an arrangement by Percy Faith. A jukebox favourite, it topped the charts and sold over a million copies. In 1953, at the behest of the producers of the Broadway musical Kismet, Bennett recorded Stranger In Paradise….it became the show's hit number and is still played on the radio.

By the mid-1950s Tony Bennett's vocal style had started to become more jazz influenced. The result was the 1957 album The Beat of My Heart featuring well-known jazz musicians such as Nat Adderley, Herbie Mann, Chico Hamilton and Art Blakey.
Bennett next became the first male vocalist to sing with the Count Basie Orchestra and the fruits of their collaboration included the albums Basie Swings, Bennett Sings (1957) and In Person (1958). Following in the footsteps of Frank Sinatra, Bennett also became a popular cabaret artist.

1962 was a phenomenally successful year for Tony Bennett. In June he was the first male popular singer ever to appear at Carnegie Hall, performing no fewer than forty-four songs accompanied by a Big Band. Four months later he appeared on the first ever edition of The Johnny Carson Show on American television. During the programme he performed what was to become his greatest ever hit, I Left My Heart In San Francisco. It sold three million copies and won Grammy Awards for Record Of The Year and Best Male Solo Vocal Performance.
With the arrival of The Beatles and other young pop groups the music scene changed radically, seriously affecting the careers of Tony Bennett and many other established performers. Under enormous pressure to record contemporary rock material Bennett instead left Columbia Records and signed to the Verve division of MGM Records (Philips in the UK).

He now began an association with Robert Farnon that resulted in the album The Good Things In Life, whose title song - one of this writer's personal favourites - is taken from a musical by Anthony Newley and Leslie Bricusse. In 1972, backed by the Farnon Orchestra, he appeared in a Thames Television series, filmed at Leicester Square's Talk Of The Town nightclub (now The London Casino).
On his return to the United States, Bennett tried setting up his own record label, Improv. He teamed up with renowned jazz pianist Bill Evans for a 1976 album entitled Together Again but sales were disappointing due to lack of distribution. In spite of regular cabaret appearances in Las Vegas his financial situation began to look precarious and he started taking drugs. Handing over his business affairs to elder son Danny allowed him to focus on his professional career and Columbia Records signed him up again.

Danny secured bookings for his father on popular TV shows like The Muppets and Sesame Street and he began to appeal to younger audiences. He headlined at the 1998 Glastonbury Festival, receiving a rapturous reception from a mud soaked audience. Honours and awards too numerous to list came his way and he was a frequent guest at The White House. He also appeared on The Royal Variety Show of 2011 in the presence of HRH Princess Anne.

A little known aspect of Tony Bennett's life and career was as an accomplished painter. The Catto Gallery in Hampstead, North London, staged an exhibition of his work in 2005.

In 2016, at the age of 90, he was diagnosed as suffering from Parkinson's Disease. He nevertheless continued his association with Lady Gaga, making a final appearance at Radio City Music Hall in August 2021. Even after announcing his retirement he continued to rehearse with his Musical Director twice a week.

Tony Bennett passed away on 21st July 2023. Two weeks later the BBC broadcast an unprecedented four and a half hour tribute, featuring concerts and documentaries taken from its archive.

© Anthony Wills