STEPHEN SONDHEIM
(1930-2021)
The American composer and lyricist Stephen Sondheim has died aged 91.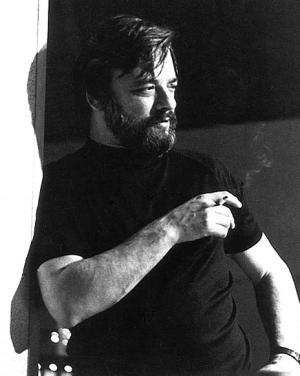 by David Smith
Widely credited with having initiated a renaissance in the American musical, his list of "hits" reads as a ringing endorsement of his success in this goal. A Little Night Music, Sweeney Todd: The Demon Barber of Fleet Street, Into the Woods and others have all assured Sondheim of musical immortality.
Born into a troubled family in New York, Sondheim would later recall his absent father and abusive mother with little fondness; in many ways his "real" father figure became the then doyen of musical theatre, Oscar Hammerstein II, who Sondheim encountered through a friendship with his son James. Hammerstein senior acted as an early musical mentor to Sondheim, and saw him enrol in Williams College, Massachusetts where he filled out his musical education through studying with, among others, the serialist Milton Babbitt.
Sondheim's first major success as an artist was not musical but lyrical – writing the lyrics to Leonard Bernstein's West Side Story, which opened in 1957 and proved phenomenally popular, as it remains to this day. A recent documentary revealed how Sondheim enlivened and elevated some of Bernstein's less inspired lines; it is Sondheim, for example, that we have to thank for the enraptured line !say it soft and it's almost like praying! in Tony's lovestruck soliloquy Maria, which would otherwise have remained as the rather more impersonal "it's a sound like in church when they're praying".
But it was from the 1970s onward, as Sondheim found his feet as a composer in his own right, that his best-known and best-loved works began to emerge, and with them the dark tone and world-weary ambivalence that would become his hallmarks; Follies (1971) and A Little Night Music (1973) both see troubled couples explore their present problems and past regrets, with emotional arcs ranging from tenderness and melancholy to outright bitterness. The song Send in the Clowns from the latter, in which a distinctly Marschallin-like character muses on the tragic absurdity of her life and loves, has become one of Sondheim's most widely-recognised works despite being a last-minute addition to the musical.
1979's Sweeney Todd: The Demon Barber of Fleet Street saw Sondheim step away from such comfortably everyday subjects and embrace the lurid "penny dreadful" horror-story of London's fictional serial murderer-cum-barber – setting the stage for other composers' horror-tinged musicals such as Little Shop of Horrors and The Phantom of the Opera in the 1980s. His fourth big musical, Merrily We Roll Along, which opened in 1981 and took the innovative approach of retracing a successful songwriter's career trajectory backwards in time over two decades, unexpectedly turned out to be an emphatic failure; a disheartened Sondheim temporarily retreated from musical theatre composition and briefly considered, among other things, an abrupt career change to video game development, then in its infancy.
A collaboration with the playwright and librettist James Lapine would revive his artistic energies, with the Seurat-inspired Sunday in the Park with George (1984) and Into the Woods (1986) both well-received. The latter in some ways brings Sondheim full circle to the bittersweet hindsight-gazing of Follies, with numerous stock fairytale characters such as Cinderella and Rapunzel appearing side by side in fleshed-out form, reflecting on the motivations behind their traditional stories. The two were still collaborating into the 1990s, with 1994's Passion a further resounding success.
Ever grateful for the early mentorship of Oscar Hammerstein II, Sondheim too offered encouragement to young composers in his turn, including Jonathan Larson (best known for his 1993 Rent) in relation to Larson's planned musical version of Orwell's Nineteen Eighty-Four, and Lin-Manuel Miranda, who sought his advice on the early drafts of his smash-hit Hamilton as well as collaborating with Sondheim on a Spanish translation of West Side Story.
A less-publicised but no less important aspect of Sondheim is the puzzle-lover. Not content with spinning lyrics and weaving music, he was constantly engrossed by mysteries and engimas. He is thought to have been crucial to the introduction of the British cryptic crossword to American readers in the late 1960s, via his crafting of a number of cryptic crossword puzzles for New York magazine. His elaborate mystery film The Last of Sheila (1973), a collaborative effort with Anthony Perkins, shows Sondheim's love of puzzles spilling over into his literary endeavours.
In a way that few composers or writers of our time can match, Sondheim's legacy truly is all around us; in the adaptation of his hit songs everywhere from Hollywood to The Simpsons; in the continued appeal of his lyrics, shortly to burst back onto the big screen in Steven Spielberg's adaptation of West Side Story (set for release in a couple of weeks' time); and in the bold new directions he forged in a genre sometimes dismissed as inconsequential – lending it a new depth and profundity.
? 2021
Obituary reproduced here with due acknowledgement to David Smith and



---
Anthony Wills adds some further comments....
Gypsy (1959) lyrics by Sondheim, music by Jule Styne with Ethel Merman - it has too many classic songs to list here. Merman was controversially replaced by Rosalind Russell for the 1962 film, which also starred Natalie (West Side Story) Wood.

A Funny Thing Happened On The Way To The Forum (1962) for which Sondheim wrote both music and lyrics (to a book by Burt Shevelov & Larry Gelbart). Originally staged on Broadway with Zero Mostel and in London with Frankie Howerd. It was filmed in 1966, again with Zero Mostel and a cast that also included Buster Keaton. Its best known songs are Comedy Tonight and Everybody Ought To Have A Maid.

One of Sondheim's key achievements was the ground-breaking show Company for which he wrote music and lyrics (to a book by George Furth). It was originally staged in 1970 on Broadway, where it won 4 Tony Awards. A London production followed in 1972 and there have been numerous revivals since, including a recent one in which the characters were gender reversed (it won 4 Olivier Awards). The best known songs are Another Hundred People, Barcelona and Being Alive. It has never been filmed apart from an Avery Fisher Hall (New York) public performance, which had a limited cinema release.