Rosemary Squires MBE
(1928-2023)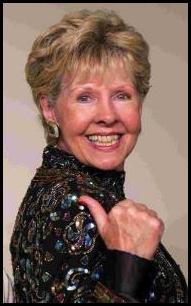 Rosemary Squires, described as the "British Doris Day", passed away peacefully on 8th August 2023, aged 94. She was a big band, cabaret and concert singer, but her real love was jazz. She was well loved and respected by all who knew her in the music community and never quite received the full accolades her talent deserved.
Her career began in 1940, when she appeared on the BBC Home Service's Childrens Hour, aged only 12. She spent the war entertaining UK and US troops on bases around Salisbury, whilst working in a shop near the cathedral selling antique books, where she was notorious (and hugely popular) for being too generous with the change for purchases.
She soon became a professional singer and sang with most of the leading big bands in the 1940s and 1950s, including those of Ted Heath, Geraldo, Cyril Stapleton, Max Harris, Kenny Baker, Nat Temple, Johnny Dankworth and Alan Clare. She became a fixture on the BBC Light Programme and sang on Workers' Playtime. She also made TV appearances on Six-Five Special (with Pete Murray and Cliff Richard) and Juke Box Jury and briefly had her own show, Rendezvous with Rosemary, in 1961. She worked alongside Morecambe and Wise, Ken Dodd, Alma Cogan, Frankie Vaughan and Vince Hill in summer seasons at leading theatre venues, as well.
Rosemary released 13 singles, including "Frankfurter Sandwiches" under the pseudonym Joanne and the Streamliners, but the changing music scene was already beginning to curtail her work opportunities. Never a lover of pop or rock music, she decided to cross the Atlantic to the USA, where she appeared in a regular slot on The Johnny Carson Show and performed with US stars, Danny Kaye and Sammy Davis Jr., before returning to England some eighteen months later.
She was known as "The Queen of the Jingles" for her work on TV commercials and was familiar to many households as the warm voice of the signature tunes for Fairy Liquid, Comfort and Skol Lager.
In 1991 Rosemary married retired Police Divisional Commander, Frank Lockyer. Her career revived and she toured the UK with various self-promoted shows, including tributes to The Music Hall (with Roy Castle), to Ella Fitzgerald and to Doris Day.
She released 11 Albums over her career and continued to perform into her 80s, mostly for charitable causes. Her voice was as good as ever. In 1984 Rosemary was awarded the Gold Badge of Merit by the British Academy of Songwriters, Composers and Authors. In 2004 she was made a Member of the Order of the British Empire for her services to music and charity. In 2012 she was awarded the British Music Hall Society's Lifetime Achievement Award, when she was described at the ceremony by her peers in the music profession as having "remained faithful to her particular style and talent, so widely admired as a true professional, yet never losing her natural personality".
Rosemary is survived by her sister, Julia, and her niece, Pat.
Reproduced from The Salisbury Journal with due acknowledgement.